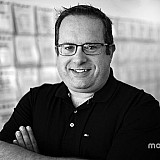 ...In NASCAR that is.
It can't be easy for Kenny Wallace to say goodbye to NASCAR racing.
It isn't usually easy for Wallace to even end a conversation.
The gregarious, fun-loving NASCAR veteran has said his start in Saturday night's U.S. Cellular 250 Xfinity Series race at Iowa Speedway will be the last of his NASCAR career.
Wallace, 51, will continue as a NASCAR TV analyst for Fox Sports and still plans to run a hefty schedule of dirt modified races throughout the country.
Wallace's final NASCAR start will come with one of his best opportunities to leave with a victory as he will drive Joe Gibbs Racing's No. 20 Toyota – one of the top rides in the Xfinity Series.
"It's been a long time since I've been able to drive for a proven winning team like Joe Gibbs Racing. I told Mike Wheeler (crew chief) and the No. 20 team that I know the pressure is on me because they're giving me a winning car," Wallace said.
"I feel light, relaxed and ready to get going. I'll be focused on the race car – not that it's the final race of my NASCAR career. I have nine Xfinity Series wins and it would mean a lot to get double digits and end my career with 10."
The Iowa start will be his 547th, a series record. Wallace has also made 344 starts in the Sprint Cup Series and 13 in Trucks.
His most recent win in the Xfinity Series came in the 2001 season a Rockingham, N.C.
"I've had a long and successful career and I've been able to support my family doing what I love," Wallace said. "To me, it doesn't get any better than that. I'm really proud of everything that I've been able to accomplish in NASCAR."