Jason White snags ride with new SR2 Motorsports team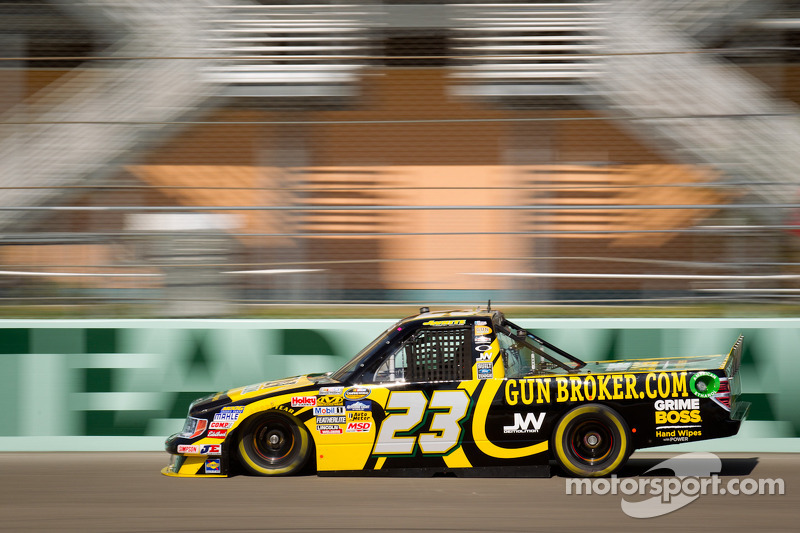 White will run a limited schedule for the new Nationwide team. White has 40-career starts in the NASCAR Nationwide Series. Since 2008 he has raced in the NASCAR Camping World Truck Series.
The new NASCAR Nationwide Series team, SR2 Motorsports, continues to beef up its driver roster. On Tuesday, the team announced that Camping World Truck Series regular Jason White will drive for the team part-time at the Nationwide level.
"I'm excited to be with SR2 Motorsports," White said. "The commitment they've shown to improve and build upon is impressive. They exceeded expectations in their first season and we look forward to raising the bar this season. There's lots of potential and promise as we head into 2013."
The number of races in which White will be in an SR2 Nationwide car is unknown, but the organization has announced that White will compete in the season-opening DRIVE4COPD at Daytona (Fla.) International Speedway on Feb. 23.
White has been racing full-time in the Camping World Truck Series since 2008 and has accumulated statistics in that series that include nine top-five race finishes and 21 top-10s. His best season in the Truck Series was 2010 when he finished 10th in championship points.
Prior to joining the Camping World Truck Series, White raced part-time in the Nationwide Series. He has 40-career Nationwide starts over the course of seven years, none of which produced top-10 finishes. White's last Nationwide race came in 2007. He made one start that season.
"I'm thrilled with the addition of Jason White to SR2 Motorsports," car owner Jason Sciavicco said. "He brings a lot to the table in terms of talent and abilities. His experience and determination will certainly be assets to our team as we continue to grow and mature as a team. He has proven to be a tremendous competitor, and we look forward to working with him in 2013."
SR2 plans to field three Toyotas in Nationwide Series competition. The team has already announced that Blake Koch will drive the No. 24 for the team full-time in 2013. Benny Gordon drove for the team in 2012, SR2 Motorsports first season in the series. He has since been promoted to team general manager and lead crew chief. Specifically, Gordon will work as crew chief for Koch.
Be first to get
breaking news
Jason White snags ride with new SR2 Motorsports team