Ryan Blaney: ""You've just got to be patient in these long races. These are a lot longer than truck races and so much can happen."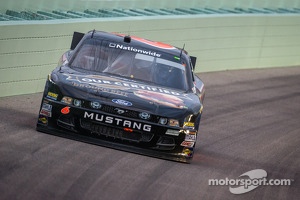 Trevor Bayne
Ford Finishing Results:
4th – Ryan Blaney

8th – Trevor Bayne

16th – Chris Buescher

24th – Dakoda Armstrong

31st – Ryan Reed

RYAN BLANEY – No. 22 Discount Tire Ford Mustang – "We really didn't start out very good. We started out really loose and we didn't think it would go that way. We thought we made good adjustments to make sure it was tight enough in the race, but when we took off we were just so loose and fell back and actually got lucky and we got the lucky dog on that first caution. Jeremy Bullins and everyone on this 22 team did an awesome job of getting this thing where it needed to be and I think if a couple cautions fell at the right time we might have been able to run second. I don't know if we had anything for the 54, but I'm proud of my guys on this Discount Tire Ford and I'm really looking forward to the next time I'm in it at Texas."
YOU AND BRENDAN GAUGHAN HAD A CLEAN BATTLE AT THE END. "Yeah, it was so hard to make a pass on the bottom. It always is here and Brendan did a good job of holding me off. He was going all he could to do it and luckily we were able to race each other clean and I was able to get by him. That was a lot of fun. That's really fun racing when you can race like that and not have any contact."
WHAT DID YOU LEARN TODAY? "You've just got to be patient in these long races. These are a lot longer than truck races and so much can happen. We have more pit stops here, so you have more opportunities to work on them. In the truck series, you have maybe one or two times to work on them, so you really have to keep your head on your shoulders. We didn't start off very good at all, but they did a great job of tuning on it and I was able to pull off a decent finish there."
TREVOR BAYNE – No. 6 – AdvoCare Ford Mustang – "It's another top-10 here. It's not what you want, you want to be running top-5 and contending for wins, but in the meantime we're still gaining on the points leader. It's not a bad day for us, especially at the beginning when our AdvoCare Mustang had an anchor attached to it. We were dropping in a hurry and fell back to 17th or 19th and almost two laps down. The thing was just plowing tight, so for my guys to keep their heads on straight and give me good pit stops and for Chad to make the right adjustments made today a total team effort.
We stayed out of trouble when we were in the back a few times, and then had a couple close calls. At the end there it was three-wide with Regan and I got his left-rear a little bit and that wasn't intentional or anything. It's just Bristol and the gaps closed up. It wasn't anything I saw coming. It closes up fast here and you've got to be thinking ahead, but I'm really happy that we came home with a top-10 finish and another good points day."
WAS IT AN EXERCISE IN PATIENCE, ESPECIALLY WHEN THERE ARE ONLY SIX CARS ON THE LEAD LAP AND YOU'RE TRYING TO COME FROM BEHIND? "At the beginning of the race I was trying to be really patient with my tires and knew the left-rear was gonna wear after running practice. Even though I was patient the tires still fell off and had nothing left at the end, so from that point on I was like, 'There's no such thing as saving here, you've got to go,' so it was all-out every lap after that.
It seemed like a little bit longer race for us, maybe because we were struggling so bad. Normally if you're in the front all day and just making laps it goes by a little quicker, but when you're fighting hard it's like, 'Man, here comes the leader again. What do I have to do here?' We had the right opportunities to get the wave-around and the lucky dog and that got us back in the fight."
CHRIS BUESCHER – No. 60 Ford EcoBoost Ford Mustang – "It was pretty decent. We were a little bit tight right off the get-go and that got us behind. We ended up two laps down, but these guys kept digging on it and got it a lot better. The EcoBoost Ford Mustang was good there towards the end, but those restarts are just crazy. I'm pretty happy with where we ended. It's good to know going into the next Bristol because I think we'll have a good baseline right off the truck."
Ford Racing