STP makes Nationwide debut with Annett
CONCORD, N.C. (July 16, 2013) - Coming off of his first top-five of the season, Michael Annett is headed to Chicagoland Speedway with a new look. The Richard Petty Motorsports driver will introduce the STP Ford to the NASCAR Nationwide Series (NNS) at the one-and-a-half-mile track. STP is a long-time supporter of Richard Petty and the No. 43 and will also serve as the title sponsor for the NNS event this weekend.
The Des Moines, Iowa native has six starts at Chicago, accumulating one top-five (Summer 2012) and three top-10 finishes (Summer 2011, 2012 and Fall 2012). His average starting position is 17.7 and his average finishing is 11.3. Annett posted his best start of eighth at the track in the fall of last year and earned his best finish of fifth that summer.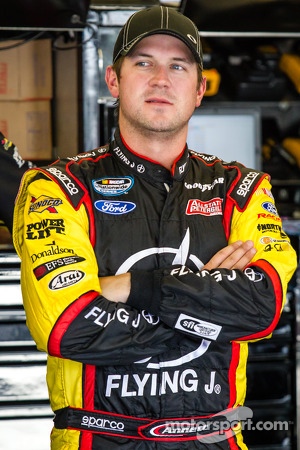 Michael Annett
The top-five finish at New Hampshire Motor Speedway last weekend was Annett's seventh career top-five in the NNS and earned him eligibility for the Dash 4 Cash program for the STP 300. Annett qualified for the Dash 4 Cash program at this race last year and followed up with a strong performance at Indianapolis Motor Speedway where he won the $100,000 bonus for being the highest finishing regular NNS driver. He hopes for a repeat performance as the top finishing NNS driver at Chicago.
Fans attending the STP 300 will have a few chances to meet Annett. He will be participating in the NNS autograph session on Saturday, July 20th from 5-6 p.m. CT followed by an appearance at the speedway's trackside party from 6:05 - 6:20 p.m. CT, both events are located at Champion's Park.
Comments from the No. 43 STP Ford Mustang driver Michael Annett:

"I'm really looking forward to this weekend in Chicago. Not only do we have STP on the car, but we're qualified for a chance to win the Dash 4 Cash bonus. It felt really good to get the first top-five of the season out of the way last week, and we're definitely ready for more. We had two good runs at this track last year, and I can't wait to see how we can build on that this year. Plus, this is where we qualified for the Dash 4 Cash last year, so to come back this year and win $100,000 here would be pretty good.
"To me, it's really cool that we'll have STP on the car this weekend. I think when everyone thinks of Richard Petty they think of STP and vice versa, so it's definitely an honor to drive the No. 43 with the STP logo on it. You have a lot of surreal moments working for Richard Petty, and I think this is definitely one of them."
Comments from Crew Chief Philippe Lopez on Chicago:

"Loudon was a good weekend for us, I wish we had a little more speed, but we definitely had a eighth, ninth, tenth-place car for most of the day. The way the things worked out with fuel mileage and restarts, Michael did a phenomenal job on all three green-white-checkered restarts, getting a spot every time. It was just a nice race, and it's been a long time coming, It seems like this whole year we've had something happen to prevent us from getting solid finishes. Last weekend, we ran our race, and he got a top-five out of it. Hopefully, we will carry the momentum and put a little kick in everybody's step.
"We ran very well at Chicago last year. I feel like we have a really good set-up there. We've been doing some really cool stuff this year and trying some different packages, but I'm pretty sure we're going to unload just like we did last year and work off that.
"It is really cool to have STP on the car this weekend, aside from the Dash 4 Cash, everybody was looking forward to this race because it's obvious who we work for and Richard Petty is synonymous with STP. It's like a perfect storm; we've got the perfect sponsor for the King going into a Dash 4 Cash weekend."
Chassis History:

Lopez and the No. 43 STP team prepared chassis 729 which was previously raced at Charlotte Motor Speedway earlier this year. Annett finished 17th at Charlotte after overcoming a speeding penalty and receiving damage from on-track incident.
Richard Petty Motorsports