Welcome Alex Tagliani... Turner Motorsports is pleased to welcome Montreal-native Alex Tagliani to the seat of its No. 30 Chevrolet for this weekend's NASCAR Nationwide Series (NNS) race at Circuit Gilles Villeneuve. A hometown favorite, Tagliani will be making his third NNS start at the Montreal-based road course. In last year's event, he laid down an impressive performance, starting second, finishing second and leading 11 laps. This will mark Tagliani's fourth career NNS start.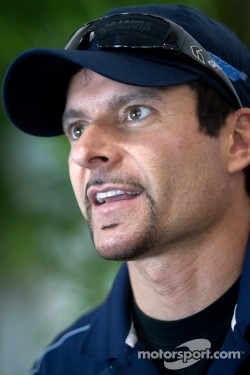 Alex Tagliani, Team Barracuda - BHA Honda
This Week's Impala a Previous Winner... The No. 30 team will unload chassis TMS-300 this weekend at Circuit Gilles Villeneuve. This is the same chassis that Nelson Piquet Jr. drove to his first career NNS victory in June at Road America, giving the No. 30 team their second win of the season.
No. 30 Season-To-Date Stats... The No. 30 team, led by crew chief Trent Owens, has had an impressive season to date. A victory in the season-opener at Daytona International Speedway with driver James Buescher was followed with a second victory in June at Road America with Nelson Piquet Jr. On top of the two wins, the team has three top-fives and 11 top-10 finishes.
In-Race Reporter... Tagliani will serve as ESPN's In-Race Reporter during Saturday's broadcast of the NAPA Auto Parts 200. Make sure to tune in to hear his thoughts on the racing action throughout the event.
Tagliani on returning to NNS competition at Circuit Gilles Villeneuve "I'm always proud to come back to Montreal and to be able to race on this fantastic road course named after one of my all-time racing heroes, Gilles Villeneuve," said Tagliani. "I really wanted to race here again, so when the opportunity presented itself with Turner Motorsports and we were no longer scheduled to be overseas, I was pretty excited. In Formula Atlantic, I won here from the pole and also had a pole in Indy Car. Montreal has been good to me to date and I'm hoping to better my race history here. Having a competitive car to challenge for the win is all I can wish for."
"Last year's race was a great experience and it was amazing to qualify on the front row and finish the race second. This year is really cool because I met Trent Owens (crew chief of the No. 30 entry for Turner Motorsports) in Kershaw and he was really helpful, answering all my questions even though, at that time, he was working with his own team. It's ironic that we are going to work together a few short years later. He's an amazing guy, so I'm excited. I'm honored to drive for Turner Motorsports. This is a passionate group of individuals that make up an awesome team. From Steve (Turner) to all the mechanics, I'm looking forward to meeting everyone at the shop."
Crew chief Trent Owens on working with Tagliani
"We are looking forward to working with Tag. Looking at what he is capable of doing in Indy Car with a new team with a one-car operation for the last two street course-qualifying sessions says it all. But last year is what impressed me. He missed the pole by just a little bit, and then ran a mistake-free race. Racing in the open wheel circuits makes him drive with a lot of respect on the track and that's important."
Source: Turner Motorsports