Get alerts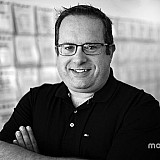 Brad Keselowski said his Brad Keselowski Racing organization would "probably not" be shutting down at season's end if the team made a profit.
"There were a lot of decisions that went into it, it wasn't just one reason," Keselowski said Friday at Bristol (Tenn.) Motor Speedway. "Certainly, at some point, every business needs to have some profitability.
"I never went into it expecting to make money, so I can't really blame that. That was one of the factors but it wasn't the only one."
Keselowski announced Thursday that the organization, which is housed in a 30,000-square-foot facility in Statesville, N.C, would cease operations at the conclusion of the 2017 season.
In the news release, Keselowski spoke of his interest in becoming an owner in the Monster Energy NASCAR Cup Series one day and his desire to use his BKR facility to house another company.
"We're not ready to announce anything but I knew where we want to go," he said. "We're putting all that together and until it's together I don't want to get too far down the road with it.
"I know that I'm committed to the facility and the community to have an operational and functioning business in that area and I plan to do just that. Hopefully, that will put us in a spot to retain a good number of our employees."
Keselowski said he hoped he would be able to place about 75 percent of his 50 or so employees into new positions.
BKR currently fields full-time teams in the Camping World Truck Series for drivers Chase Briscoe and Austin Cindric.
Keselowski said it took a few months of planning to come to his final decision, which he said was made about the same time his contract with Team Penske as a driver in the Cup Series was renewed late last month.
Other factors
In what may be a related move, Motorsport.com has learned that several of the sponsors currently supporting the BKR teams will be transferring their support with a move to Keselowski's No. 2 Ford Cup team next season.
Some of the sponsors may also be increasing their NASCAR involvement as part of the move, sources said.
Asked on Friday if he intends to continue the relationship with his current BKR sponsors, Keselowski said, "I do think that we have a path. I don't have anything to announce but I'm very hopeful that will be the case."
Keselowski said some of the sponsor deals already in place had continued into next season. "That's always a tricky road to navigate," he said.
 Watch Keselowski talk about his decision: