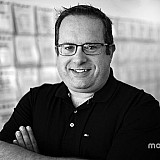 The Wood Brothers, NASCAR's oldest active team that has fielded entries in the Sprint Cup Series since 1950, will return to full-time racing in 2016.
Ryan Blaney, who has run a partial schedule in the Wood Brothers No. 21 Ford this season, will compete fulltime with the team in the series in 2016. It will mark the first time since 2006 the Wood Brothers have attempted to field a fulltime team in the Cup series.
The news, which was first reported by Motorsport.com Friday morning, was confirmed in an official announcement by the team later in the afternoon.
"We are beyond excited to make this announcement about going back to full time competition," said co-owner Eddie Wood in a press conference at Homestead-Miami Speedway. "It has been something we've worked toward since 2009 when we started running limited schedules.
"I have to thank Ford's Dave Pericak and Raj Nair, Edsel Ford, our technical alliance partners Team Penske and Roush Yates Engines, as well as everyone at Motorcraft, for working with us to make this day possible," Wood continued. "It'll be fun to see just how good Ryan Blaney, Jeremy Bullins and our team can be over a full season.
"Lastly," he added, "it'll be great not to have to worry about rain anymore on qualifying day."
In 15 races so far this season, Blaney has one top-five and two top-10 finishes, including a career-best of fourth in the spring race at Talladega, Ala.
Blaney, the 21-year-old son of NASCAR veteran Dave Blaney, has already found tremendous success in his brief NASCAR career. He has four career Truck Series and four Xfinity Series wins, including two Xfinity and one Truck just this season.
"This is every driver's dream come true," Blaney said, "Getting a chance to run for the NASCAR Sprint Cup. I'm really looking forward to running a full schedule with this historic Wood Brothers team and hopefully get them their 99th and 100th wins sooner rather than later."
In two fulltime seasons driving trucks for Brad Keselowski Racing in 2013 and 2014, Blaney finished sixth and second, respectively, in the series standings.
This is the 65th year the Wood Brothers have been paired with Ford Motor Co. in NASCAR competition – a relationship that shows no signs of ending anytime soon.
The team began a technical alliance with Team Penske this season. Blaney has raced as a Team Penske development driver since 2012.
We are proud to have played a role in helping get the Wood Brothers back on the track full time for 2016," said Dave Pericak, Global Director of Ford Performance. "These guys have been Ford's most-loyal team for 65 years and they deserve the chance to show how they can perform when they are at every race. They've earned a full-time slot by running strong all year, even under adversity. We plan on being part of this when they capture their 100th Cup victory."
Motorcraft will remain the anchor sponsor for the No. 21 Ford and Blaney in 2016.