Accident ends Busch's night early in the Sprint Unlimited
Kurt Busch, driver of the No. 41 Haas Automation Chevrolet SS for Stewart-Haas Racing (SHR), had his SHR debut spoiled when he was collected in a multicar accident on lap 35 and finished 14th in the Sprint Unlimited Saturday night at Daytona (Fla.) International Speedway.
Busch was looking to make a strong opening statement in his first race with SHR, but unfortunately the lap 35 incident left his new Haas Automation Chevrolet unable to return to the garage under its own power. The extensive damage proved too much to overcome and ended the night early for the 2004 Sprint Cup champion.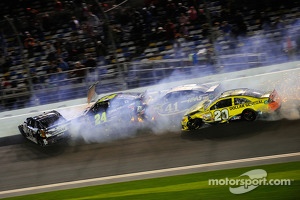 Trouble for Matt Kenseth, Joe Gibbs Racing Toyota, Kurt Busch, Stewart-Haas Racing Chevrolet, Tony Stewart, Stewart-Haas Racing Chevrolet, Jeff Gordon, Hendrick Motorsports Chevrolet
"We were just trying to find the right draft and not find trouble," Busch said. "But we ended up finding trouble because everybody was wrecking in front of us."
While Busch was disappointed in the final results, he knows his focus must remain on the upcoming Daytona 500 – the first points-paying race of the season.
"It was pretty wild racing," Busch said. "It's a big exhibition race where there are no points and everybody is just kind of changing lanes and getting aggressive. It was good, though. The cars were handling well, and the addition of the rear spoiler really took away some of the big runs that you could get because it would stick out there and throw up the drag and put you side by side. I thought it was a good show all up until then."
The accident started when Matt Kenseth made contact with Joey Logano, setting off a chain reaction that involved seven cars. Busch, trailing the initial contact, moved to the high side to avoid spinning cars. Unfortunately, Busch was unable to avoid the cars of Carl Edwards, Tony Stewart and Jeff Gordon bunched against the outside retaining wall while being pushed by Ricky Stenhouse Jr., who was unable to see over his crumpled hood.
The Sprint Unlimited is a non-points exhibition race, featuring drivers who won a pole during the 2013 season as well as past winners of the Sprint Unlimited. This year's field included 18 drivers. Busch won the Sprint Unlimited in 2011.
Kevin Harvick, driver of the No. 4 Jimmy John's Chevrolet SS, led the way for SHR in the Sprint Unlimited by finishing fifth. It was Harvick's sixth top-five finish in 10 career Sprint Unlimited starts.
Tony Stewart, driver of the No. 14 Mobil 1/Bass Pro Shops Chevrolet SS, was credited with an 11th-place finish. He earned his way into the race by being a three-time winner of the Sprint Unlimited (2001, 2002 and 2007).
Danica Patrick, driver of the No. 10 GoDaddy Chevrolet SS for SHR, finished 16th in her first Sprint Unlimited. Patrick earned a spot in the race by winning the pole for last year's Daytona 500.
Denny Hamlin won the Sprint Unlimited. It was his second win in the non-points race, with his first victory coming in 2006.
Brad Keselowski finished .197 of a second behind Hamlin in the runner-up spot, while Kyle Busch, Joey Logano and Harvick rounded out the top-five. Jamie McMurray, Marcos Ambrose, Ryan Newman, Dale Earnhardt Jr. and Matt Kenseth comprised the remainder of the top-10.
There were five caution periods for 13 laps, with 10 drivers failing to finish.
-TSC-