Get alerts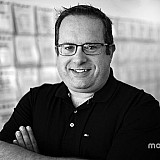 Ty Dillon is honored to fill in for the injured Tony Stewart but he also plans to make the most of the opportunity this weekend to drive Stewart-Haas Racing's No. 14 Chevrolet.
Dillon, who will turn 24 on Saturday, is scheduled to fill in for Stewart this weekend at Atlanta Motor Speedway while Brian Vickers – who drove the No. 14 last weekend at Daytona – will drive it again next week at Las Vegas.
If you don't set your goals really high, you will never achieve them

Ty Dillon on driving the No. 14
"First of all, it's an honor for me to step into the No. 14 for Tony. It's definitely an unfortunate situation on how this came about," Dillon said. "But for me, I'm going to take it and run with it.
"I was over at their shop earlier in the week, getting my seat fitted and going to lunch with (crew chief) Mike Bugarewicz. I'm looking forward to the opportunity. It's definitely a big one for me."
Ty's resume
Dillon, the younger brother of Sprint Cup Series driver Austin Dillon, won once in the Xfinity Series and owns three wins in the Truck Series, including a victory at Atlanta in 2012. He has made eight career stats in the Cup series, including last weekend's Daytona 500. His career best Cup finish is 14th last season at Michigan.
"I feel like I know what it takes to have a fast race car at Atlanta, but I know it's going to be different with a different (aero) package," Ty Dillon said. "Talking with Mike and everyone at Stewart-Haas, I think there is no reason we shouldn't run really well and surprise some people."
High expectations
Dillon is not shy about setting high expectations for himself.
"If you don't set your goals really high, you will never achieve them," he said. "Me and Mike talked about it and we think we can definitely run on the lead lap, finish the race with the body in the same position it started the race, and get in the top-10, top-five and do the best I can."
Stewart underwent surgery after sustaining a burst fracture of the L1 vertebra in an all-terrain vehicle accident Jan. 31 while vacationing on the West Coast.
A timetable for Stewart's return has not been determined, but he is expected to make a full recovery. This is scheduled to be Stewart's final season as a fulltime NASCAR competitor.
Dillon is also competing in Saturday's Xfinity Series race at Atlanta. He is competing fulltime in the series this season in Richard Childress Racing's No. 3 Chevrolet.