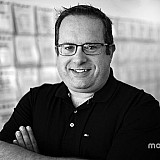 Martin Truex Jr. was certainly disappointed Sunday. He came up just short of winning his first Daytona 500, but for now, he's content with sending a message with his performance.
While Truex showed last season he could win a race and compete for the Sprint Cup Series championship, his Furniture Row Racing team went through an offseason move to the Toyota camp and began a technical alliance with Joe Gibbs Racing.
We didn't make any mistakes. It's just one of those deals where we could have used the finish line moved about 10 feet further back

Martin Truex Jr.
In the closing laps of Sunday's Daytona 500, Truex found himself running up front with JGR drivers Matt Kenseth, Denny Hamlin and Kyle Busch.
The dash to the checkered flag came down to Truex and Hamlin, with Hamlin winning in a photo finish, the closest in 500 history.
"That last couple feet before the line, Denny just creeped out in front of me. I should have probably tried to run him a little bit harder because I had probably a foot on him for a long, long ways from Turn 4," Truex said. "I should have maybe rubbed him up the track, maybe.
"I'm proud of my team. This was my first race back with Toyota, my first race with the partnership with Gibbs. I wish we could have gotten the big trophy today but I have a feeling were going to get a lot more this year."
Truex said it will take some time to get over losing the race in such a close and dramatic fashion.
It probably didn't help that when Truex pulled down pit road after the race, the line of cars left his No. 78 Chevrolet right in front of Hamlin's team's pit box, where a giant celebration was already well underway.
Within arm's reach
Truex slowly got out of his car and slapped the roof before he was met by his brother, Ryan Truex, who finished second in Friday night's Truck series race, and Bass Pro Shops owner Johnny Morris, whose company sponsored Martin's car in Sunday's race.
"We've put a lot of effort in the offseason and this week in trying to integrate into the JGR system. Cole (Pearn, crew chief) and all the guys did a great job with that," Truex said. "This weekend was my turn to take care of that on the race track.
"It's a big deal for me to show those guys that they can trust me and I can be a part of their group going forward. It will lead to bigger and better things throughout the season."
Asked if it hurt a lot not to win, Truex said, "It will hurt more later. I'd rather be over there in Victory Lane instead of Denny right now, for sure, but we were close to doing that.
"We didn't make any mistakes. It's just one of those deals where we could have used the finish line moved about 10 feet further back. Denny did a great job and we did a good job working together all day.
"It hurts a little but it's the start of something great."