Texas
Many Firsts for TRG Motorsports at Texas this Weekend
TRG Motorsports runs first race with Ford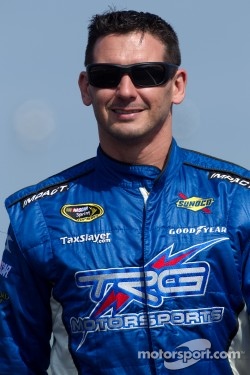 Andy Lally, TRG Motorsports Chevrolet
Mooresville, NC (April 6, 2011) - Andy Lally and TRG Motorsports will be running their first race with the new No. 71 Interstate Moving Services Ford Fusion at Texas Motor Speedway under the lights on Saturday, April 9 in the Samsung Mobile 500.
Not only will it be the first time the team runs the Fusion with Roush/Yates Ford power it will also be relying on the new car and new motor package to push Lally into the race as the rookie will have to rely on his qualifying time to make the field for this weekend's 500-miler.
"I'm really interested to see how the Roush built car feels at Texas," Lally said. "Texas is obviously a fast track. It's also a difficult place to be fast. I enjoyed it last year and look forward to going back again. I always brag about how hard my crew is working, but this week has been nothing short of amazing. The amount of effort that goes into changing manufacturers from one week to the next is huge and for our small team to take on this challenge is a massive undertaking. Kevin and the partners are showing just how serious they are about being in the NASCAR Sprint Cup Series.
This is going to be a big weekend for all of us and everyone is up to the challenge.
I have a lot of pressure on me to qualify on time which is a situation that I have only had to face a couple of times in the past.We have our work cut out for us this week and a lot of things to adapt to, add on top of that our goal to get back into the top 35, we have a pretty big challenge ahead of us!"
Team owner Kevin Buckler is excited about the team's shiny new cars and to be a member of the Ford family.
"This is the next phase of our growth within the NASCAR Sprint Cup Series," Buckler said. "We took on the challenge to switch manufacturers and acquired new cars, new motors, which is giving us a fresh re-start for this ever growing team. Texas is where it all began for TRG Motorsports back in 2007 with our first Camping World Truck Series race, with Andy at the wheel. We will need to draw upon all of our resources, and some new blue oval friends, to make sure we unload our new package at Texas on the pace. Andy will have to qualify his way into the race and that adds some pressure. This is going to be a big weekend for all of us and everyone is up to the challenge."