Get alerts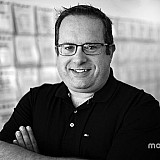 Trevor Bayne may have gotten his first laps this week on Charlotte Motor Speedway's Roval course but it was enough to leave a lasting impression.
"It's going to be a survival race," Bayne said. "If you're smart, you take care of your car and you don't make mistakes, you'll have a really good shot at the end for a good finish. I enjoyed it.
"It was a challenge for me – something new – and I enjoyed that part of it."
This week's Goodyear tire test on Charlotte Motor Speedway's Roval course was cut short by inclement weather. Four Monster Energy NASCAR Cup Series drivers – Bayne, Kyle Larson, Paul Menard and Kyle Busch – took part in the test but they group was only able to get on track Tuesday.
Wednesday's session was postponed and Goodyear has tentatively rescheduled an additional test day for May 1.
"I just took some slow pace laps and got a feel for the race track," Bayne said of his experience on Tuesday. "I was nervous, but I wasn't anxious because I was never going to go out there and make qualifying laps.
"We worked our pace in and our plan, we stuck to it. I felt really good by the end of the day."
Bayne said drivers will need to be "on your game" when navigating the 2.28-mile course, which utilizes the 1.5-mile oval and the infield road course.
"You can't really let your guard down anywhere. There's no room to make mistakes. If you make a mistake, you're going to pay for it pretty quickly," he said.
"If you try to do something and it doesn't work, you'll pay the price."