Toyota Motorsports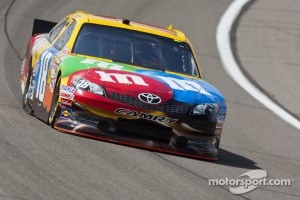 Kyle Busch, Joe Gibbs Racing Toyota
PAIR OF PODIUMS: In Sunday night's NASCAR Sprint Cup Series (NSCS) race at Charlotte Motor Speedway, Denny Hamlin and Kyle Busch finished second and third, respectively. Hamlin's result was his sixth top-five finish in 12 races this season, including back-to-back runner-up showings after finishing second at Darlington two weeks prior. Busch earned his fourth consecutive top-five finish and fifth of the year. Hamlin and Busch also finished in the same positions, second and third, in Saturday's NASCAR Nationwide Series (NNS) race, while Joey Logano (sixth) also drove his Camry to a top-10.
DOVER CAMRY CONCLUSIONS: Toyota drivers have recorded two NSCS victories at Delaware's Dover International Speedway -- both by Busch. The driver of the Joe Gibbs Racing (JGR) No. 18 M&M's Camry was triumphant at the one- mile concrete oval in the spring races in 2008 and 2010. Camry drivers also earned three poles at Dover - one by David Reutimann (May 2009) and two by Martin Truex Jr. (May 2010 and Oct. 2011).
MARTIN AT 'MONSTER MILE': Dover is located about 130 miles from Mayetta, N.J., the hometown of Truex, driver of the Michael Waltrip Racing (MWR) No. 56 NAPA Camry. Truex earned his first career NSCS victory in the spring of 2007 at Dover when he led 216 laps (of 400). In 12 starts at Dover, Truex has recorded one win, four top-10 finishes and two poles (May 2010 and Oct. 2011).
FOUR AND FIVE: Camry drivers have earned four victories and five poles in 10 NNS races at Dover. Driving for JGR, Busch has three NNS wins at the one-mile concrete oval -- Sept. 2008, May 2010 and Sept. 2010 -- and his teammate Hamlin won the May 2008 race. The five poles earned by Toyota drivers include three by Busch -- Sept. 2008, Sept. 2009 and May 2010 -- and two by fellow JGR driver, Logano -- May 2009 and Sept. 2010.
FOUR FINE FINISHES: Tundra drivers have won the last four NASCAR Camping World Truck Series (NCWTS) races at Dover. Last year, Busch was victorious after leading 128 laps (of 200) to drive his Kyle Busch Motorsports (KBM) Tundra to the winner's circle. From 2008 through 2010, the NCWTS races at Dover provided inaugural series victories for several Tundra drivers. Scott Speed kicked off the streak in 2008 when he earned his first NASCAR victory, followed in 2009 by Brian Scott. In 2010, Aric Almirola earned his first Truck Series triumph on the one-mile track.
NOTES, QUOTES & NUMBERS
NASCAR Sprint Cup Series (NSCS): Through the first 12 races of 2012, Denny Hamlin is third in the series point standings, trailing leader Greg Biffle by 16 points … Martin Truex Jr. (sixth) and Kyle Busch (eighth) also rank in the top-10 in the standings … Eight different Toyota drivers have earned a total of 15 top-10 finishes at the 'Monster Mile' with Busch leading the way with five top-10 results in the last eight races … Toyota drivers have swept all three NASCAR series races at Dover twice -- in 2008 and 2010 … The 2008 victories were earned by Busch (NSCS), Hamlin (NNS) and Scott Speed (NCWTS) … Busch (NSCS and NNS) and Aric Almirola picked up the wins in 2010 (NCWTS) … MWR's Ty Norris (vice president and general manager) grew up in Smyrna, Del., and graduated from Delaware State University … JGR's Jimmy Makar (senior vice president of racing operations) hails from Cedar Knolls, N.J.
KYLE BUSCH, No. 18 M&M's Toyota Camry, Joe Gibbs Racing What makes you so successful at Dover? "I love the place. I came to Dover when I was 18 to race in the Nationwide Series for my first time. It will scare you the first time. You carry so much speed at the race track and for it to be a mile in length and for it to be concrete -- concrete surfaces that we race on anyway are a little bit slick. This place is fun. It's definitely a roller coaster ride and you need to treat it like it's fun, and not to be scared of the place I think because you can get so much out of this place. There's two ways of it -- you can probably be really, really good here or really, really bad here. Some days you're going to be better than others obviously with how you can get your car setup compared to the competition. Just getting to race here in the Trucks and the Nationwide cars and the Sprint Cup cars -- to me, it gives me a little more experience on the race track. It helps me understand a little bit more about how the rubber gets laid down during the race and what all is going to happen and how the different cars might handle."
MARTIN TRUEX JR., No. 56 NAPA Auto Parts Toyota Camry, Michael Waltrip Racing What is the biggest challenge at Dover? "Dover's challenging because of the speed. You carry so much speed and the way you drop yourself into the corner, the car takes such a load into the race track. It's really difficult to keep the car balanced at that point of the race track, but yet still go around the rest of the corner good. It's really hard to get your car to where it will land without being loose, but still turn. It's a place where you're in the gas for such a long time and the corners are so wide that if you're off a little bit then it just compounds as you go around the corner. It's a difficult place just to keep the car underneath you."
Is it difficult to get down pit road at Dover? "Pit road is very challenging -- probably the second-hardest pit road to get on in all the NASCAR circuit. Even once you get on pit road, under caution it gets very congested and it's one of those places where it's important to run up front and get onto pit road without being in all that traffic. Hopefully, we can qualify well enough to get a good pit stall down toward the end so you're not coming out of your box and having to run into people. Everything about pit road there is difficult, whether it's under green or under yellow."
NASCAR Nationwide Series (NNS): After 11 races, Mike Bliss ranks eighth in the series point standings … Joe Nemechek (10th) is also among the top-10 in the standings … Camry drivers have also earned 31 top-10 finishes at Dover and at least one top-10 in every race since Sept. 2007 … This weekend, Kurt Busch will drive the KBM No. 54 Monster Energy Camry … Busch has earned one victory (Richmond) and three top-10 finishes in four starts this season … Ryan Truex (Mayetta, N.J.) will compete in a JGR Camry this weekend at Dover, the site where he locked up both of his NASCAR K&N Pro Series East Championships (2009 and 2010) … John Wes Townley will make his second NNS start of the season this weekend after finishing 15th at Talladega.
BRIAN SCOTT, No. 11 Dollar General Toyota Camry, Joe Gibbs Racing What makes Dover so tough? "Dover's tough because it's a mile, so everything happens really quickly. It's high -banked and it's concrete -- its got a lot of unusual characteristics that we're not really accustomed to as drivers. Dover's the only place like Dover. When we go there it's about adapting to that and figuring it out quick and just knowing what you need. You have to have a good team behind you as it requires a different setup than anywhere you go and you have to have a team that's prepared for that and knows what Dover takes. From there on, it's just respecting the 'Monster Mile' and trying to get good track position and maintain it -- then you normally have a pretty good day."
NASCAR Camping World Truck Series (NCWTS): After five races, Timothy Peters is second in the series point standings … Todd Bodine (ninth) is also in the top-10 in the standings … Tundra drivers have four poles at Dover -- David Reutimann (2006), Mike Skinner (2007 and 2008) and Busch (2010) … NNS regular Brian Scott will compete in his first NCWTS race since 2009 when he drives for KBM at Dover … Scott, who won the 2009 NCWTS Dover race, has 57 series starts that include 20 top-10 finishes.
BRIAN SCOTT, No. 18 Shore Lodge Toyota Tundra, Kyle Busch Motorsports Are you looking forward to getting back in a Tundra at Dover? "I'm looking forward to Dover. The last time I was there in a truck, I was fortunate enough to go to victory lane with our family-owned team at Xpress Motorsports. It's going to be exciting. I'm looking forward to not only Dover, but the other four races that I'll be doing with KBM (Kyle Busch Motorsports) and just getting back in a Toyota Tundra and having some fun out there on some of my better race tracks."
How much more confidence do you have at Dover? "A lot more and in this sport confidence means a lot. When you're more confident in talking to your team and knowing exactly what you want and what you need -- it just makes you that much more productive in everything you do that weekend from practice to qualifying to the race. When you're productive consistently and knowing what you're trying to achieve and make a lot of headway and always be progressing then you know you have a shot at a win."