Texas
Stewart's Texas Rally Falls Short
Mobil 1/Office Depot Driver Overcomes Numerous Obstacles to Finish 12th
Tony Stewart didn't have the best car in Saturday night's Samsung Mobile 500 NASCAR Sprint Cup Series race at Texas Motor Speedway in Fort Worth, but he and crew chief Darian Grubb made sure they gave themselves the best chance to win the 334-lap race around the 1.5-mile oval.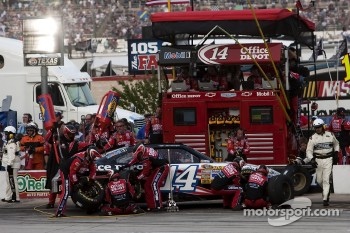 Pit stop for Tony Stewart, Stewart-Haas Racing Chevrolet
It turned out not to be, as Stewart ran out of fuel on the final lap and finished 12th, but the duo sure made things interesting in the race's last 100 laps. As crushing as the ending was, the fact that Stewart even got into a position to contend for the win was impressive.
The driver of the No. 14 Mobil 1/Office Depot Chevrolet Impala for Stewart-Haas Racing (SHR) rallied from his 26th-place starting spot, a pit road collision on lap 11 and a late-race pit road speeding infraction to still lead twice for a total of 12 laps. Savvy pit calls by Grubb put Stewart in the lead, and had him poised to steal his 40th career Sprint Cup victory and second at Texas, even after Stewart was dinged for speeding on entry to pit road during his final pit stop on lap 276.
The resulting pass-through penalty dropped Stewart to 16th, but because of smart strategy by Grubb, Stewart didn't have to make another stop while the rest of his counterparts did. As such, the pit road penalty was essentially wiped clean, for Stewart was able to climb back into the top-five while his competitors dove onto pit road to fill their thirsty fuel tanks.
The strategy worked to near perfection. Without it, Stewart would've only been able to contend for a top-10. But now, a top-five and even a top-three was possible. That is until Stewart's tank ran dry on the final lap and he had to coast toward the finish line, dropping him from either a third- or fourth-place finish – as Carl Edwards was challenging him for third at the time – to a disappointing 12th.
"You know, it took almost the whole race to crack the top-10, so to be in the position we were in there at the end, I guess is a good thing," Stewart said. "But when you're in that position and you can't capitalize, it's pretty frustrating. Speeding on pit road didn't exactly help the cause either."
It wasn't until lap 237 that Stewart cracked the top-10, and it was done via Grubb's methodical work on making the Mobil 1/Office Depot Chevrolet better handle Texas' D-shaped layout. Stewart was as tenacious as ever behind the wheel, but with a blistering pace being set by the leaders during a period of long, green flag runs, making any headway toward the front was tough, but as Stewart and Grubb proved, not impossible.
Speeding on pit road didn't exactly help the cause either.
Their run to the front began inauspiciously when after pitting on lap 206, the caution came out four laps later to put Stewart a lap down, but only temporarily. Since the No. 14 was the first car one lap down, Stewart earned his lap back via the lucky dog. Then before the race restarted, Grubb smartly called Stewart to pit road for four tires and fuel.
The benefit to this was that Stewart had fresher tires and more fuel than any of his competitors, all of whom had pitted earlier. This meant Stewart could go the distance on one more stop, while everyone else needed two – theoretically, at least, as the last lap proved one lap too many for Stewart's 18-gallon fuel cell.
The 12th-place result actually bumped Stewart up one spot to 10th in the Sprint Cup championship standings. He now has 213 points and is 43 markers behind new series leader Edwards.
Ryan Newman, driver of the No. 39 U.S. Army Reserve Chevrolet Impala for SHR, finished 14th to drop one spot to seventh in the standings. He has 233 points, 23 points arrears Edwards
Matt Kenseth won the Samsung Mobile 500 to score his 19th career Sprint Cup victory, his first of the season and his second at Texas. The 2003 Sprint Cup champion ended a 76-race winless streak dating back to Feb. 22, 2009 at Auto Club Speedway in Fontana, Calif.
Clint Bowyer finished 8.315 seconds behind Kenseth in the runner-up spot, while Edwards, Greg Biffle and Paul Menard rounded out the top-five. Marcos Ambrose, David Ragan, Jimmie Johnson, Dale Earnhardt Jr., and Kurt Busch comprised the remainder of the top-10.
There were five caution periods for 24 laps, with nine drivers failing to finish.
The next event on the Sprint Cup schedule is the April 17 Aaron's 499 at Talladega (Ala.) Superspeedway.
-source: shr