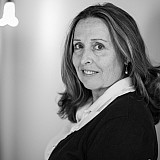 Danica Patrick finished 42nd in the Southern 500.
The Lady in Black got the best of Danica Patrick on Sunday.
Patrick's issues started in qualifying for the Southern 500 on Saturday when she lost control of the No. 10 GoDaddy Chevy in the first round and forced her team into pulling out a backup car.
After starting from the back of the field at the start of the race, Patrick worked her way up to 16th on the restart following the third caution on Lap 61. But 100 laps later, Patrick made contact with Trevor Bayne and sent the No. 6 AdvoCare Ford spinning on the backstretch.
Into the wall without warning
Twenty laps later, Patrick broke her front suspension after slamming into the Turn 4 wall. Patrick radioed to her crew that she didnt know what happened.
"I didn't feel out of control out there," Patrick said. "I felt like I was in a pretty decent rhythm. It snapped pretty hard in (Turn) 4. So, I don't know, I mean they said it looked like it snapped pretty hard. It felt like that it was definitely more sudden and something that I wasn't expecting. It is definitely possible that it just got loose. For a few laps before that I felt like I could pull the yaw pretty easily through (Turns) 3 and 4.
"The one thing about Darlington is you definitely run a lot of lines here. I was running – I felt better lower than higher, so at times I was a lane or two below the dotted line. Debris is just something that happens here because we are using so much track, but I'm not 100 percent sure could have just got loose. But, it could have been a cut tire too, just not sure. It's a bummer."
Throwing in the towel
After the No. 10 Stewart-Haas Racing crew repaired the car, Patrick returned to the track on Lap 263 — 73 laps off the pace. After attempting to run two laps, Patrick wrecked again and called it a night.
"We fought our way back to the lead lap after taking two tires, but it's probably not a good idea at Darlington," said Patrick, who was scored 42nd. "I think Carl (Edwards) took no tires, and not a good idea at Darlington. So, I feel like we were in a position to have a decent end to the day, although we're just only halfway.
"It's unfortunate. And I love this car and my suit. The Lady in Black thing was a cool thing, but unfortunately I think it's come to an end."