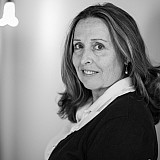 Denny Hamlin triggered a 13-car pileup on Sunday
Denny Hamlin lost control of his car coming out of Turn One on Lap 117 at Pocono Raceway, triggering a 13-car wreck.
As Clint Bowyer passed Hamlin on the outside, the No. 15 Toyota took the air off Hamlin's car which went spinning in front of the field.
"I really don't know why I got so loose," Hamlin said.
Hamlin and Kevin Harvick continued on in the race, but contenders Brad Keselowski, Brian Vickers, Paul Menard, Tony Stewart, AJ Allmendinger, Aric Almirola and Carl Edwards were some of the cars collected in the melee.
"I saw a little bit of smoke in front of me," Almirola said. "Cars probably four or five rows in front of me, and I saw a car make a hard right.  I don't even know who it was, but instantly I knew that they were wrecking. 
"I was trying to get low and I was following Keselowski and everybody started to check up.  I was on the brakes as hard as I could and I got creamed from behind and pushed into the wreck.  There's nothing you can do when it gets like that, so it was just a big pile up trying to get all we can get on the restarts." 
"The 11 got loose on the outside maybe two rows ahead of me," Menard said. "There was nowhere to go."
The race resumed on Lap 127.