Dover International Speedway
CHEVY RACING AT THE TRACK-DOVER INTERNATIONAL SPEEDWAY - JEFF CHEW, MARKETING MANAGER, NASCAR, CHEVY RACING: "We look forward to bringing the Team Chevy Racing Display back to Dover International Speedway, because, as we saw last year, the race fans who visit The Monster Mile are very interested in experiencing all of the newest Chevy products. Also, racing is a very important part of Chevy's long history, and sharing that heritage with our fans is very important to us. We've added more elements to the display this year, like the latest GM Performance Parts crate engines and Chevy accessories and performance parts that fans can purchase from their local Chevy dealer, to go along with interactive games, digital photography and other activities for fans of all ages."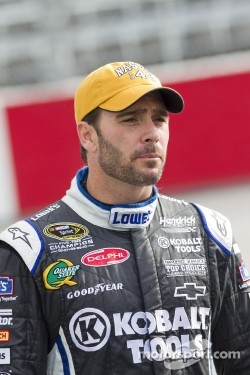 Jimmie Johnson, Hendrick Motorsports Chevrolet
TEAM CHEVY AT DOVER INTERNATIONAL SPEEDWAY – PAT SUHY, NASCAR GROUP MANAGER, GM RACING: "Congratulations to the newest "first time winners", Regan Smith and Furniture Row Racing, on their win at Darlington this past Saturday. That's a huge feat for a one car team these days. They've been working as hard as anyone and as their speed has improved. Regan has been qualifying the #78 Impala well, and showing promise in terms of being able to run in the top quarter of the pack on a regular basis. It was only a matter of time before they collected their first win, and that time was last Saturday as Regan came out on top in a great duel with Carl Edwards on the last restart. It's always great to see a team and driver get their first win in a Chevy.
"Heading to the Monster Mile, as Dover International Speedway is aptly known, we look forward to another great race and top finish for one of our Team Chevy drivers. The track really is a monster. A mile of concrete with banking of 24° on each end connected by straightaways that have 10° of banking. It is a challenge to drivers and crews alike, with large elevation changes at corner entry and exit that challenge the drivers ability to "hit the marks", and a crews ability to keep the chassis both comfortable to drive and fast underneath him. Mid-corner grip and traction to get the power of their potent R07 engines are keys to success for Chevy teams at Dover. Our General Motors engineers do everything in our power to make sure the teams have the support they need to find that balance between fast and comfortable enough.
"There was a tire test in April, the and teams that were invited to participate, including our own Jeff Gordon, will benefit as will their entire organization. It's a chance not only to experience the new tire, but to try the latest set-up's on the car since what the teams were running fast last fall at Dover has evolved as teams work to wring every bit of performance out of their Chevrolets. The good news for teams that didn't get to participate is that the tire will not change from what was used last fall. The bad news is that the four teams that were on hand got a chance to test their latest chassis setups against that tire to see what works best. In the end, it will be a race sure to please the fans...and hopefully it will end with another trip to winners circle for another Chevy driver."
TEAM CHEVY FROM THE DRIVER'S SEAT AT DOVER INTERNATIONAL SPEEDWAY:
JIMMIE JOHNSON, NO. 48 LOWE'S CHEVROLET – 2ND IN STANDINGS: "Dover is a fun race track. I think it's a track that really suits my style, and the stats show that. There's a certain rhythm there. You have to be comfortable with typically the race car at least into the corner; then you have to figure out somehow to make it turn the center, fight forward grip up off the corner to run a good lap there. The rubber, I understand we're going back to the same tire as we had there in the fall. That tire laid a lot of rubber down and caused a lot of handling issues for teams. We did a good job of working around that. So I'm excited going back. I think it will be a strong race for the Lowe's team."
Dale Earnhardt Jr., Hendrick Motorsports Chevrolet
DALE EARNHARDT, JR., NO. 88 AMP ENERGY SUGAR-FREE/NATIONAL GUARD CHEVROLET – 4TH IN STANDINGS: "Concrete has joints in it like a wooden deck, and much like a wooden deck when you don't treat it well the boards sort of flare up on the ends, and that's what the joints on the concrete track do. The track gets bumps in those joints, and they're consistent bumps like when you're going down the interstate, and it makes the car sort of chatter around on top of those bumps and joints. And, concrete as you run on it gets chalky; it's difficult to keep smooth or clean. Every time we go out there (Dover) for the first time, the first few minutes in practice everyone is throwing up a bunch of dirt and dust. There is a crossover on the back straightaway of Dover where they bring a lot of dirt in, driving across it into the racetrack. That sort of circulates around the racetrack until it sort of dissipates and goes wherever it goes. It's harder than asphalt to drive on, for me."
KEVIN HARVICK, NO. 29 BUDWEISER CHEVROLET, 5TH IN STANDINGS: "Dover is just one of those places as a driver that feels really fast. With this style of car it seems like the forward drive up off the corner is probably the most important thing but you still have to make your car turn in the center of the corner so as a driver the car has to be comfortable to be really aggressive. With Dover and Charlotte, you need to know where you have to be when you come back for the Chase. So these are important weeks for us to put the notebooks where they need to be and have a good understanding of the things that we need to do when it counts."
RYAN NEWMAN, NO. 39 HAAS AUTOMATION CHEVROLET – 6TH IN STANDINGS: "Dover is another one of my favorite race tracks. This little swing here we have here, Richmond, Darlington, Dover, Charlotte; it's been kind of similar in the last few years. It's a string of races that I really enjoy. Dover is a very demanding racetrack. The way the altitude, the elevation changes I should say going into the corners, coming off, as another parameter, that makes it more exciting from our standpoints as drivers. It's a challenge. And a challenge, just like at Darlington, if you don't like a challenge, you don't like Darlington or Dover. I like them both."
TONY STEWART, NO. 14 MOBIL 1/OFFICE DEPOT CHEVROLET 7TH IN STANDINGS: "Dover is really similar to Bristol, it is just bigger. The same variables that you fight at Bristol, you fight at Dover. The guys that normally have a good car at Bristol are normally pretty good at Dover at the same time." I don't know if we really consider Dover a short track. But I don't know. We're trying to figure out what we've got to do to be better and not just there, but everywhere. We'll look at Dover I'm sure, also. But that's probably a (crew chief) Darian (Grubb) question more than I'm going to know."
CLINT BOWYER, NO. 33 BB&T CHEVROLET – 9TH IN STANDINGS: "Dover is actually a good track for me. I love Dover and run well there. We've practiced, qualified and raced well, yet don't always finish well. That's what we need to work on, is getting that strong finish. We're hit or miss on race day. There will be runs when we're lightning fast, but there are other runs that we're going a lap down. It's always one of those tracks that we come back in the fall and have a good finish after learning from the spring event. We need to be able to capitalize on that and get a good run here in the spring race. The toughest part is getting your car to do what you want it to do. I have won two Nationwide Series races there so I've had success. I love that race track, but the hardest thing is getting these Sprint Cup cars to do what you want them to do. They don't want to do that sometimes (laughs). Dover is a bigger Bristol and I would definitely say that Bristol is a physical test. Dover is just a bigger, faster, meaner Bristol."
JUAN PABLO MONTOYA, NO. 42 TARGET CHEVROLET – 13TH IN STANDINGS: "I think Dover is a cool race track. It's a cool place to go. That's the place that probably reminds me more about open-wheeled racing. It's just the grip level on these cars around that place is incredible. It's like you go through the corners and it's oh my god we do have a lot of grip here. And it's always fun. When the car is right it's a lot of fun and when it's not it's a handful. So it's exciting. You've really got to step it up in qualifying and it just makes it fun. I really like Dover. It has probably been one of the easiest tracks for me because it actually has a lot of grip. So you can actually feel like you are driving the car like what I was used to in open-wheel. This is the closest feeling I get comparison wise. It's a track that typically has long green flag runs so you work on the handling throughout the day and prepare for a lot of cautions in the end. A good spot in the pits helps, staying out of the fence and making a final charge at the end is the way to survive at Dover."
A good spot in the pits helps, staying out of the fence and making a final charge at the end is the way to survive at Dover.
MARK MARTIN, NO. 5 GODADDY.COM CHEVROLET – 14TH IN STANDINGS: "Well, I love it (Dover). I loved it the first time I went there, and I remember the track record being set at that first race 144 miles an hour (chuckling). I think that's 25:40 or something like that, I think it was 25:40 was the lap time. And since then, we have seen lap times down into the 21-second bracket. A lot of things have changed there, but one thing that's stayed the same is it's a wonderful place to race. Wonderful racetrack, one of my favorite places to go. It's the only concrete track that I really love. And I loved it even more when it was asphalt, but I still love it. It's one of my top-of-the-list favorites."
JEFF GORDON, NO. 24 DUPONT CHEVROLET – 17TH IN STANDINGS: "That annual visit to DuPont headquarters is a real source of motivation before the weekend's race (at Dover). We've had a great partnership for 19 years, and the businesses and employees really support this team. They get excited for our visit, and their excitement is contagious.
"I don't know what triggers it (tempers and aggression early in the season). It just seems like some years the moon is just right. I don't know. There is no doubt there is a tremendous amount of pressure and I think you just have to look at everybody's success level, where they are at and there are some that might be a little more comfortable with things and some that aren't real happy with things. Maybe there are sponsorship contracts that are up or maybe they've been with a team and they felt like they should have had more success at this point and haven't so when that opportunity comes up and something gets in the way of that being a successful run it's easy to get frustrated because of all that's built up to it. But in my opinion this is a very high stress level sport, intense, and I think the competition has only gotten tougher so it goes back to talking about the points system because the competition is tougher and we see how close the cars are and how hard it is to make big gains then that means its only harder to make up positions in the points as you get further in the season. Not to mention the new point system might add a little bit to it. Those to me are all the ingredients of heightening the stress and frustration levels.
PAUL MENARD, NO. 27 CERTAIN TEED/MENARDS CHEVROLET – 18TH IN STANDINGS: "I feel pretty confident about Dover. We ran good there last fall. Charlotte will hopefully be a good track for us and Kansas and Pocono. We should be okay. Short tracks have been our struggle and that's what we're working hard on. I've always liked Dover. It's a really fun track to drive and to race on. We had a good run last fall so we've got some good notes to base it off. It's a wide track, really. It's really fast but the groove opens up and gets really narrow on the straightaways. Things happen very fast there. The backstretch gets really bottled-up and the track gets blocked easily if there's a wreck; just trying to stay out of trouble. The concrete has a lot different feel to it than asphalt does. And trying to get over all the seams in the race track and get your shock package right (is important)."
It's really fast but the groove opens up and gets really narrow on the straightaways.
JAMIE MCMURRAY, NO. 1 BASS PRO SHOPS/TRACKER BOATS CHEVROLET – 21ST IN STANDINGS: "I am looking forward to racing at Dover, this is a really fun track to race, but things can happen real quick when the track narrows off the corners. It is a demanding race for both drivers and equipment. I have run well there in the past and look to build on our momentum from our top-10 finish last week. Our guys have been working really hard on this Bass Pro Shops Chevrolet to get us back in the winner's circle. I want to try to win every weekend, but to win at Dover would be real cool, I would love to have one of those Monster Mile trophies in my collection!"
JEFF BURTON, NO. 31 CATERPILLAR CHEVROLET – 22ND IN STANDINGS: "Dover is a track that's been good to us. We typically don't qualify well there but we race really well there. Qualifying poorly doesn't really hurt you all that much because it's a long race and it's a track you can make passes on. We're excited about going. It's a really hard race track. It's very, very difficult. It's a high-speed Bristol, if there is such a thing. It'll get your attention. I know we've gotten ourselves in a deep hole but there's a lot of racing left to go and a lot of things are going to be happening between now and then (before the Chase). I've said all along that we're not giving up on being able to make the top 10. I just don't think we're in the position to just say we definitely can't make it and the only way we're going to get in is win races. I don't believe we're in that situation. We certainly want to win races because that gives us the most points and it puts us in the best shot to make the Chase. So we've got a lot of motivation to win races that help us in a lot of ways."
REGAN SMITH, NO. 78 FURNITURE ROW CHEVROLET – 27TH IN STANDINGS: "Since Saturday night in Darlington it's been a whirlwind, but a wonderful whirlwind. Winning that race was a tribute to the ownership, management and to all the guys who headed west to work at Furniture Row Racing in Denver. Their commitment, dedication and work ethic sure paid off when our Furniture Row Chevrolet crossed the finish line first. It's been fun since Darlington and we don't want it to end. We have put ourselves in a possible Chase berth but we need to get in the top 20. So that's why every race is so critical for us, starting with Dover this weekend. As was the case with Darlington, I also really like the Dover Monster Mile. We'll be ready and fighting for every point that's out there."
DAVE BLANEY, NO. 36 GOLDEN CORRAL CHEVROLET – 31ST IN STANDINGS: "Dover is one of my favorite places. I like the shape of it and the way it races. I've had some good runs at Dover in the past. Our team needs to keep the momentum going since we made it into the top-35. We need to have some more good finishes and not make any mistakes."
-source: team chevy