Darlington Raceway 500
Regan Smith Takes the Checkered Flag at Darlington to Score First Career NASCAR Sprint Cup Series Win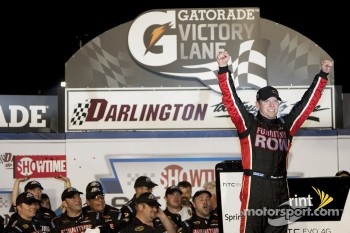 Victory lane: race winner Regan Smith, Furniture Row Racing Chevrolet celebrates
Darlington, S.C. (May 7, 2011) - Regan Smith added his name to the star-studded record book of winners of the prestigious Southern 500 at historic Darlington Raceway.
Taking the lead with 10 laps remaining as the result of a gutsy pit call by crew chief Pete Rondeau when the other leaders pitted, the driver of the No. 78 Furniture Row Chevrolet powered away from the field on not one, but two restarts, to claim his first career NASCAR Sprint Cup Series victory. He led once for a total of 11 laps.
Ryan Newman, No. 39 Tornados Chevrolet, finished fifth that was extended three laps beyond the scheduled 367 due to a late-race caution flag. He led once for 28 laps and jumped two positions in the standings to sixth.
Tony Stewart, No. 14 Office Depot/Mobil 1 Chevrolet, finished seventh in tonight's race and was credited with leading once for six laps. He climbed three places in the standings to seventh position. Jamie McMurray, No. 1 Bass Pro Shops/Tracker Boats Chevrolet, finished ninth to give Team Chevy four of the top-10 finishers in the 10th race of the season. The strong run boosted him to 21st in the standings.
Five-time defending champion Jimmie Johnson, No. 48 Lowe's/KOBALT Tools Chevrolet, remains second in the standings. He battled to finish 15th in tonight's race after working through handling issues, two spins and a late-race pit road penalty.
Dale Earnhardt, Jr., No. 88 AMP Energy Sugar Free/National Guard Chevrolet, continues fourth in the standings after finishing in 14th position as a result of a late-race pit road violation.
Kevin Harvick appeared to be headed toward a very strong finish in the No. 29 Budweiser Chevrolet until contact that resulted in the 11th and final caution of the race relegated him to the 17th finishing position. Harvick led twice for 47 laps and remains fifth in the standings.
Clint Bowyer lost two positions in the points order, dropping to ninth place when he and his top-10 running BB&T Chevrolet were caught up in the same accident as his teammate Harvick. He was scored as the 31st finisher.
Juan Pablo Montoya, No. 42 Target Chevrolet and Mark Martin, No. 5 GoDaddy.com Chevrolet, sit just out of the top-12 Chase standings in 13th and 14th positions respectively.
Next stop for the NSCS is May 15, 2011 at Dover International Speedway.
I don't think anybody realizes how much work has gone into getting this program where it is out of Colorado.
***
REGAN SMITH, NO. 78 FURNITURE ROW CHEVROLET, RACE WINNER: ON THE VICTORY:
"I don't really know how to put it in words right now. It is so surreal right now. We had a good car all night and we had to work for a ways back. We kept working on it and these guys kept digging and digging and digging. We got track position. It was good out front with clean air. I hit the wall on the white-flag lap but the chances of me checking up there were about zero. I could have torn the right front off and kept going. Proud of this team. Furniture Row. I don't think anybody realizes how much work has gone into getting this program where it is out of Colorado. Joe Garone, Barney Visser, all of them. Barney has put a huge, huge investment into NASCAR into this team. I can't be more proud to be driving it. Man, we are in the All Star race! We have all kinds of cool stuff going on. Happy Mother's Day to all the Moms. My Mom isn't here tonight, She is in Tuscaloosa (Alabama) helping with some of the recovery efforts with animals and things like that. But we are going to have one hell of a party tonight."
TAKE US THROUGH THAT FINAL GREEN-WHITE-CHECKERED, YOU HAD TO BEAT SOME OF THE BEST IN THE BUSINESS WITH FRESHER TIRES THAN YOU HAD: "My biggest concern on the initial restart, I wasn't as worried. It was the second restart when Carl was on the outside and he had the fresh tires also or fresher tires than I did. I spun them real bad on the first one and I just backed it up a bit of a notch on the second restart and went with it. It stuck and I held it wide open in one and two on the first lap and tried to hold it wide open in three and four also. The car was good when I got in clean air. That is all I say. I can't be prouder of this team."
WHAT DOES THIS FEEL LIKE AFTER THE CLOSE CALL AT TALLADEGA? "This is a lot cooler race than Talladega to win, no offense. It just goes down different and it feels different at the end of the day. It feels a lot different at the end of the day when you say 'Hey, I won a race at Darlington'. The names that have won here...the Pearsons, Yarboroughs and on and on, you name it. I was sitting behind some of those guys today and I was thinking 'Man, these guys are pretty awesome. They are legendary'. I don't know if my name deserves to be next to them, but after tonight, maybe it does."
CAN YOU DESCRIBE WHAT THIS MEANS FOR YOU? "No, I really can't. First and foremost to all the Moms out there, Happy Mother's Day. My Mom comes to every race that I run and she missed this one. She's in Tuscaloosa, Alabama saving the animals. Mom, hi, I love you. Sorry you missed this one. Gotta thank the fans, Furniture Row. These guys have stuck behind me three yers now. We've had some major ups and major downs, I think this will be classified as a major up for sure. The car was good all night we just never had track position. The opportunity showed up to stay out there, Pete (Rondeau, crew chief) made a great pit call. I was going to be mad if he didn't say that but I was going to do what he told me to do and it worked out. We're in the All Star race. There's so much cool stuff going on right now. I had to get my composure, actually just right now I did. We've got a neat trophy now. Legends win this race, I'm not supposed to win this race. I've never even had a top five. I guess that shows in this series, anybody can win on any given Sunday."
***
PETE RONDEAU, CREW CHIIEF NO. 78 FURNITURE ROW CHEVROLET, RACE WINNER: ON THE WIN: "It is great, man. Great feeling. Great feeling."
"Obviously we were racing hard and doing what we had to do there at the end and things happen.
***
KEVIN HARVICK, NO. 29 BUDWEISER CHEVROLET – FINISHED 17TH
ON HIS INVOLVEMENT WITH KYLE BUSCH AT END OF RACE: "Obviously we were racing hard and doing what we had to do there at the end and things happen."
THINGS HAPPEN, THAT'S IT? "That's it. What do you do? That's racing, I guess."
WHAT WAS DISCUSSED IN THE NASCAR TRAILER? "Not much."
OH, COME ON KEVIN. WHAT DID YOU GUYS TALK ABOUT? "I don't have anything really to tell you other than not much."
IS IT SETTLED BETWEEN THE TWO OF YOU? "You saw the end."
***
RYAN NEWMAN, NO. 39 TORNADOS CHEVROLET, FINISHED 5TH: ON HIS RACE: "Congratulations to Regan first of all. Those guys did an excellent job. Heck of a place to win your first race, the Southern 500. Just proud of the Tornados Chevrolet guys. We really battled a loose condition for most of the race. Finally hit on something that woke the race car up and we'll have to go back and look at what we have to do to make it better next time."
YOU SAW JUST ABOUT EVERYTHING TONIGHT, EXTREME TIGHT AND EXTREME LOOSE. "Yeah, we really struggled with the race car and then we finally hit on something and just decided to leave it and take what came to us. Just proud of everybody with Tornados Chevrolet. They did a good job to pedal through that situation. We were all scratching our heads. Congratulations to Regan. I'm walking down to say congratulations to him, that was a heck of a way to win your first one. Just proud to have a good rebounding weekend for us after all the things we've been through."
***
CLINT BOWYER, NO. 33 BB&T CHEVROLET – Sidelined in accident, Finished 31st: "That's Darlington. Congratulations to Regan Smith. Proud of him for winning. Proud of BB&T. Just trying to manage everything, stay out of trouble. All day long we did and got caught up in a wreck."
ARE YOU MAD AT ANYBODY OVER WHAT HAPPENED? "It's the nature of the beast. There's no room to race at the end. I knew when the caution come out all hell was going to break lose and it did. I got such a good run coming down there. I felt like I don't know, I passed four or five cars and I came off there and I had plenty of room. I don't know if somebody got into Kevin (Harvick) and knocked him down into me or something. He just really abrupt came down and I saw he got wrecked too. How about Regan Smith? At least something good come out of it. I'm proud of him for winning. Proud of BB&T. Just trying to manage everything and stay out of trouble all day long and get caught up at the end."
Dale Earnhardt Jr., Hendrick Motorsports Chevrolet
***
DALE EARNHARDT JR., NO. 88 AMP ENERGY SUGAR-FREE/NATIONAL GUARD CHEVROLET – FINISHED 14TH
WHAT ARE YOUR THOUGHTS ABOUT THE RACE? "Yeah, I was lucky to finish 14th. I made a mistake getting onto pit road and just choked trying to make that last pit stop and that cost us about eight spots, probably. We did run a good race and worked really hard to get up to inside the top 10. It was another week where we've been able to put the car inside the top 10 and we just need to start capitalizing like we were at the very start of the season, on getting the finishes we deserve and stop making so many mistakes. I think we can do that. I think the confidence is coming more and more each week about the speed we've had."
IS THAT EASY TO DO? MARTIN TRUEX SAID HE WAS ALWAYS AMAZED AT PEOPLE WHO DO THAT AND THEN I WENT AND DID IT, YOU KNOW? "Yeah, I pitted earlier and had no problem and I was just trying to get a little too much there. I barely hit that cone and that's all it took."
WHAT ARE YOUR THOUGHTS ON REGAN SMITH GETTING HIS FIRST CUP WIN? "Well, Regan is an awesome talent and a really, really good person. It's good to see a good guy win. And he's worked really hard to get into this sport and to become a full-time driver in this series. And he deserves that they achieved tonight. So I'm really proud. I guess they've got Pete over there. And that's great for Pete too, (crew chief) Pete Rondeau."
WHAT ARE YOUR THOUGHTS ON ALL THE FIREWORKS GOING ON BETWEEN KEVIN HARVICK AND KYLE BUSCH TONIGHT? "I was hoping you guys (the media) would get the facts and report on it so I can go on the internet tonight and check it out. I don't know what happened."
HOW DO YOU THINK YOU RAN TONIGHT? "I think we ran pretty good. I wasn't a top five car. The No. 14 (Tony Stewart) was better than me; he was running fifth there. We were just good enough to stay ahead of everybody, the No. 39 (Ryan Newman) and those guys that were running behind us. We were about a sixth place car and I think a legitimate contender there for that position; and it would have been nice to have gotten that position. We gave up 10 points tonight, so it was kind of tough. I was really proud to hear that they (Regan Smith) won. Pete (Rondeau, crew chief) has done a great job with that team to find the speed that that car has and to make them as competitive. I think a lot of credit goes to Pete. Obviously they've got a great young talent in their driver and he is going to get some good credit too for being able to hold off (Carl Edwards) there at the end. Pete deserves this and I guess Regan deserves it just as much. It's great to see. It's a good story."
-source: team chevy