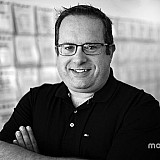 For the second consecutive season, Kevin Harvick enters the penultimate race in the Chase for the Sprint Cup at Phoenix in good position to advance to the championship race at Homestead, Fla.
There are differences, however, to how Harvick and his No. 4 Stewart-Haas Racing team have arrived at this position this season. Many of them are subtle, particularly from the outside looking in. But they are there nonetheless.
Despite enjoying what was arguably the best season of his NASCAR career, Harvick entered last season's race at Phoenix needing a victory to ensure a chance to compete for his first series title.
This season, Harvick actually enters the race with a realistic shot not only to advance with a victory, but also to become one of the four title contenders at Homestead through a strong points day in Sunday's Quicken Loans 500.
Even so, Harvick said his confidence last season was at an all-time high.
"I came in with a new team and new environment that I feel like was a better fit for everything that we had going on from a performance standpoint and throughout the year and the way that things went," Harvick said.
"I can honestly tell you that last year if we wouldn't have won the championship, I would have felt disappointed the way that the cars ran throughout the year and the way that things went. 
"It's not to say that you wouldn't be disappointed if you didn't win this year, but I feel like we've challenged and been competitive and done the things that we need to do to stay in the hunt."
Overcoming 2015 Chase adversity
Although Harvick has once again been one of the top performing teams this season, his run in the Chase has been filled with several issues – some self-inflicted – which he managed to avoid for the most part last season.
Just in recent weeks, he survived a late-race engine issue at Talladega, Ala., and two blown tires and a broken shifter last weekend in Texas. Strangely enough, he comes into Phoenix in a better position to advance than last season.
The consistency of performance within the Chase itself, however, was better for Harvick in 2014.
"Before last season I never had been in that situation to feel like we should win a championship because we have performed so well. It's never been like that for me before throughout the whole year," he said. 
"We've done a good job of managing the Chase this far with all the adversity we've had. We've really only had one smooth weekend (his win at Dover). We need two more."
Repeat performance
From strictly a statistical standpoint, Harvick's 2014 and 2015 are remarkably similar.
In both seasons he's had three wins by this point. With two races remaining, he's led only 32 less laps this year than he did in 2015. And he will actually end 2015 with more top-five and top-10 finishes than he did in 2014.
In this Chase format, however, to repeat as champion will require the much the same from Harvick and his team – near-flawless races this week and next.
Harvick will start eighth in Sunday's Quicken Loans Heroes 500 at PIR.