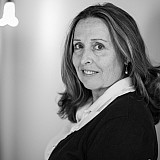 Stewart-Haas Racing and Team Penske have established a blistering pace over the first six races of the NASCAR Sprint Cup season.
Brad Keselowski is a big-picture kind of guy.
Sure, the former champ used restraint by not dumping Denny Hamlin for the win at Martinsville Speedway last Sunday.
But it wasn't like the former champ didn't use his chrome horn a time or two to prove he was there.
I really don't know what more I could have done other than just drove through him, but I felt pretty good about what I did do.

Brad Keselowski
"I did everything I could other than wreck him," Keselowski said. "I hit him pretty good a couple of times, so did a good job and he chose not to wreck, which I give him credit for.
"I just had fun and I really don't know what more I could have done other than just drove through him, but I felt pretty good about what I did do."
What Keselowski "did do" is have a career-best day on the half-mile in his laps led (18) and a second-place finish.
With a win from Fontana in his pocket, Keselowski could use the STP 500 as a test session for Race 7 in Chase for the Sprint Cup. Given that he failed to finish either Martinsville race on the lead lap last year, a solid run on the half-mile track was invaluable to Keselowski and the No. 2 crew. The fall Martinsville race kicks off the Eliminator Round – and it was his 31st-place finish in that event that inevitably cost Keselowski an opportunity to be one of the final four drivers at Homestead-Miami Speedway.
Down the road
And while all's fair in love and the playoffs, Keselowski has endured his share of run-ins with Hamlin in past. Banking good karma now could pay off large in the future. In last year's Chase, the driver of the No. 2 Team Penske Ford had drivers lining up to kick his ass – Hamlin among them.
Perhaps a take-no-prisoners philosophy was not the best way to approach the 2014 Chase. Could Keselowski have had a change of heart last Sunday?
Morals in racing are pretty subjective.

Brad Keselowski
"Morals in racing are pretty subjective," Keselowski said. "I just felt like I raced him the way I wanted to be raced.  I guess that is what it is."
Sizing up the competition
For now, however, Hamlin is the least of his worries. Keselowski's biggest threats comes from Stewart-Haas Racing and his own Penske teammate Joey Logano.
Certainly, Joe Gibbs Racing and Hendrick Motorsports will pick up the pace between now and September. The drivers in both camps are Chase-worthy. Since Hamlin has a win, the No. 11 Fed Ex team can afford to experiment over the next 20 races along with Team Penske, Kevin Harvick and Jimmie Johnson's crews.
But just as Harvick identified Logano as his main competition entering the season finale, Keselowski has the defending Sprint Cup champion and Harvick's SHR teammate Kurt Busch on his radar and with good reason.
"Right now the 4 and the 41 are the best on the mile‑and‑a‑half tracks, and the championship always comes down to the mile‑and‑a‑half tracks," Keselowski said. "You look at the Chase, that's how it is.  The 4 and the 41 are the best cars there.  We've all got some work to do to catch up to them." 
Harvick had eight consecutive top-two finishes prior to finishing eighth at Martinsville. The No. 4 Budweiser team currently enjoys a 24-point lead in the series standings over second-place Logano and a 90-point lead – more than two races' over worth – over seventh-place Paul Menard. Want to talk dominance? Harvick has won one-third of the races this year and led 670 of 1,816 laps raced. His average finish is 2.7.
Busch, who missed the first three races, soldiered to a 14th-place finish after his power steering went out on the No. 41 Haas Automation Chevy at Martinsville. Prior to the failure, Busch led 21 laps on the paper clip. One week earlier, Busch earned the pole and led the most laps at Fontana before finishing third. In his comeback at Phoenix, Busch finished fifth. Not only has Busch completed every lap since his return, he's led 86 of 1,021 and has an average finish of 7.3. Although Busch is 25th in driver standings, the No. 41 Chevy is currently fifth in owner points, 67 points behind his teammate and 10 back up Keselowski.
Under the same roof
Last year Logano emerged as a contender. He outlasted Keselowski in the Chase, earned a spot in the Championship segment but was plagued with problems in the pits. Logano, 24, kicked off 2015 with a Daytona 500 win. The driver of the No. 22 Shell/Pennzoil Ford enjoys an average qualifying effort of fourth and an average finish of 5.5. He was a demon during the playoffs with 2 wins and an average finish of 5.3 entering Homestead.
Since Logano is in house, Keselowski can keep an eye on his friend and rival. That won't be the case for the other contenders. But 2012 Sprint Cup champion has proven to be an admirable opponent himself. In the five races since his engine failure at Daytona, Keselowski's average finish is fifth. He's led laps in each of those races and vaulted from 35th in the point standings in the season opener to fourth after Martinsville.
Considering how grateful Hamlin was that Keselowski didn't push the issue last Sunday, perhaps he will pay it forward to his long-time rival. If Keselowski hopes to win a second championship, it will be easier to accomplish by focusing on what's in front of his windshield rather than what's in his rear view mirror.