Charlotte Motor Speedway
REGAN SMITH, NO. 78 FURNITURE ROW CHEVROLET, met with media at Charlotte Motor Speedway and discussed team confidence from Darlington win, acceptance of team in Denver, being in the All-Star race and other topics.
TALK ABOUT BEING QUALIFIED FOR THE ALL-STAR RACE AND WHAT IT MEANS TO YOU: "It is certainly exciting for us, me as a driver and Furniture Row as a team. This is such an important race from the standpoint that we get to go out there and essentially take the gloves off and worry about just racing and not worry about points or anything else that goes with it. I think that is what we all grew up doing is just worrying about racing and winning races and it is good to get back to that feeling a little bit. It is a little bit nervous too because we were talking about that in the hauler this morning and I have no clue what to expect for tonight for qualifying. We're trying to figure out if this line is going to work better, is that line going to work better. What is the best way to get on and off pit road and stuff like that. It is kind of going to be a learn as we go deal for us this weekend but something that we are excited to be learning about."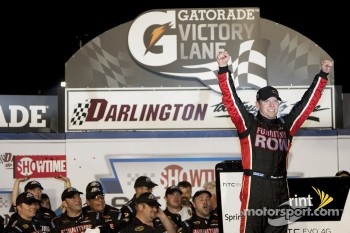 Victory lane: race winner Regan Smith, Furniture Row Racing Chevrolet celebrates
WHAT IS IT LIKE TO HAVE THE VICTORY AND BE A NASCAR ALL-STAR NOW THAT YOU HAVE HAD TIME TO THINK ABOUT IT AND HAVE IT SINK IN? DOES YOUR BREAKFAST TASTE BETTER? DO YOU WAKE UP HAPPIER? "(LAUGHS) Well, I don't know that breakfast tastes any different in the morning. That is probably a good question to ask Megan (Mayhew, fiancée) if I wake up happier because she has made comments 'Why don't you win more races because you are in a way better mood when you win'. So, I have definitely probably been in a more jovial mood since then. I'll be honest with you, you are extremely motivated before you get that first win; then after you get that first win and you know what it feels like. You know how to do it, you start to understand what these guys that win week-in and week-out to do to do that. I'm even more motivated now than I was before, if that sounds right. I was pretty motivated beforehand. It is just so addicting. You get that first one and you just want to get another one. As much as you can and as soon as you can basically. It's certainly helped out my confidence and boosted up my attitude, I guess, if you want to call it that. Which is a good thing."
WHAT SORT OF EXTRA MOTIVATION AND CONFIDENCE HAS IT GIVEN YOUR CREW AND YOUR TEAM? "I think the best answer I could give to that question was when we got to Dover last week, everybody is being congratulated and talking to people throughout the garage and everything but when practice started, there was a different feel to our team. It was more of a feeling…I don't want to say it was like 'hey, we belong here'; it was just a confident swagger and it seemed like the changes went quicker. It seem like things that took 20 minutes in the past took 15 minutes and everything flowed better so there was…there was just more of a air of confidence about the guys. A lot of guys on our team had never won before at anything. There are a couple of them that have been to Victory Lane with other teams, in different circumstances. But it was most of us first experience and that same confidence that I gained as a driver, I can see that same confidence within them as a team, which was really cool to see happen."
IN DENVER YOU HAVE THE NASCAR MARKET TO YOURSELVES OUT THERE, WHAT HAS BEEN THE RESPONSE MEDIA AND OTHERWISE THERE ABOUT THE WIN? "That has been a really big deal actually. The media has been really good to us in Denver anyway, just because we are the only race team there. It's kind of been a learning experience for me since I went to work for the team, I didn't know how that would work out and how things would be . Being around Charlotte and growing up around Charlotte, obviously there are 42-plus teams here if you count Nationwide, Truck and everything, there are a 100 and something teams in this area and it gets covered differently because of that. Well now, essentially, since we are the only team out of Denver, they would cover us on Sunday nights and throughout the course of the week, almost like their other sports teams. Like the Avalanche, like the Broncos or like the Rockies. We'd get our own time. So now, on Sunday nights when they cover the race and maybe they didn't always cover the race as much beforehand as they do now that they know there is a team in Denver, but, when they cover the race, it is essentially ok, here is what happened in the race and then they highlight what Denver's Furniture Row Racing team did. It is really neat to see the formula that has taken place there. I heard from a couple of different people that they actually highlighted the start of the newscast, it was either Saturday night or Sunday…whatever newscast it was they led into the newscast with the team winning the race. That is a big deal with all the other news that is going on and things like that. The reception has been really cool to see from the media out there and something we appreciate definitely."
... I've got a lot personally invested into Denver and into the team.
SHOULD WE EXPECT TO SEE YOU AT FURNITURE ROW RACING FOR A LONG TIME? "That is my intention. I think the one thing you have to look at and you have to remember, when I went to Furniture Row, I don't want to say it was a down-time for me, but I was coming off a really rough year. Yes, we won the Rookie of the Year, but it was a long year and a grueling year. When I sat down with those guys, they were coming off a rough year too and we looked at each other and we said let's work on something and let's build something together here and see where it goes. We've all got a lot of time and effort put into it and they have certainly stuck behind me. Maybe when we were having some struggles or vice versa, if we were in a situation where we were breaking some parts of something like that, I've been 100% behind them. So, I've got a lot personally invested into Denver and into the team. I think there is something to be said about loyalty that maybe doesn't stick around all the time in this sport sometimes. But I am perfectly happy where I am at. I am sure stuff will be said and things will be out there, but it is only one win. I've only got one win and one top-five, so I want to concentrate on getting more of them and being consistently up front and to me that is the most important thing right now."
DO YOU DRIVE WITH THE SAME INTENSITY IN QUALIFYING AS YOU DO IN THE RACE? "I don't change anything in the race. I think the one thing in the race that you have to do is you have to just be a little more mellow at times. It is 400 laps or it is 500 laps or 500 miles, whatever it might be, so you do have to find a point where you can kind of relax in the car and tell yourself to loosen your grip up on the wheel a little bit or something like it. Qualifying, you hear everybody joke about holding your breath for 30 seconds, well, I probably do that and don't know I do that, but I don't know. I do know when I get done qualifying I am always out of breath and it is not like we are working that hard for just one lap basically. We are working hard, but it is more an intensity thing I think. The mentality is always the same, you think about the same things when you start a race that you do when you start a qualifying lap. There are always points in the race when you are running qualifying laps for maybe it is five, 10 laps at a time. Maybe it is 105 laps at a time, it just depends."
"I don't think the win changed that deal.
DO YOU FEEL LIKE YOU HAVE A TIGHTER BOND WITH YOUR TEAM BECAUSE YOU ARE BUILDING SOMEETHING TOGETHER? "I personally think yes, it changes the relationships that everybody has amongst each other a little bit because it gives you a little more of that feeling that you are tugging on the rope together and you have to make sure that you are tugging on the rope together. I think sometimes the big teams, let's say one of the four-car teams, well if you have one car winning every week and you have another car struggling, it puts pressure on that team that is struggling and it makes it easy on that car that winning. If roles get reversed, it can do vice versa. Whereas we're always pulling on the rope together. We're always focused on the same goal at the end of the day. The other dynamic for us that helps that us that helps that out is the fact that we are in Denver. The guys that move to Denver to come to work on our team, they are committed to it. They are not coming out there with the idea, well, if this doesn't work out, this guy offered me a job and I can just turn around and go to that shop and go to work. Or, maybe there's going to be something better than comes down the road a week later. We don't get any of that mentality. We get 100% commitment from the guys when they come there because some of them are making big moves. They are moving their families or maybe they are changing their personal lives. It changes the attitudes a little bit."
DOES SCORING A WIN NOT ONLY VALIDATE YOUR ORGANIZATION BUT DOES IT MAKE IT A LITTLE BIT EASIER TO GET SOME GUYS TO MAKE THAT COMMITMENT TO COME OUT THERE BECAUSE YOU HAVE PROVEN THAT THE ORGANIZATION CAN WIN RACES FROM DENVER? "I don't think the win changed that deal. I think that started changing last year around the start of the season to be perfectly honest. Once everybody saw that we were here to stay. That we are making the right moves to be around a long time in this sport, meaning Furniture Row and Barney (Visser, team owner) and the whole team. I think that kind of started to change that mentality a little bit. To be quite honest, I don't think there hasn't been anyone that we have wanted or needed to get for a position that we haven't been able to when it comes to that. Part of that is because we were fortunate about what happened with some of the teams having to cut back and scale back. There were a lot of good people available. Maybe they were burned out just a little bit on the Charlotte area or maybe they just wanted something different for awhile. They come out and they see the team and live in Denver for a little while and they fall in love with it and all of a sudden, they are looking back at it and thinking this is the best thing they ever did. But, that mentality for us hasn't changed from the win. I think that it changed at the start of last year from some of the people we brought in and some of the things we were able to do to change the whole persona."
-source: team chevy