Get alerts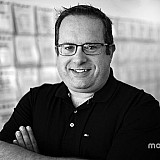 Rick Hendrick has heard all the doubters about moving Chase Elliott to the NASCAR's premier Sprint Cup Series at age 20.
He's heard the criticisms and the concerns about all the pressures put on the rookie driver. But he remains absolutely confident in Elliott's ability to tackle it all.
Elliott will take over the driving duties of Hendrick Motorsports' iconic No. 24 Chevrolet this season as the team's famous former driver, Jeff Gordon, moves to the Fox Sports NASCAR broadcast booth.
The son of NASCAR Hall of Famer Bill Elliott has spent the last two seasons competing in the Xfinity Series for JR Motorsports, winning a championship in 2014 and finishing second in the series standings in 2015.
How do you go out at 18 years old and win a championship and not get cocky?

Rick Hendrick on the maturity of Chase Elliott
"We've been through a learning curve with Jimmie Johnson and Jeff Gordon and all those guys, but I just think Chase is a little bit different driver. He's a little bit like his dad," Hendrick said during last week's Charlotte Motor Speedway Media Tour.
"I think he's going to win a race and I think he has a really good shot at making the Chase – that's how confident I am. I would never put him in the car if I didn't think he could do it."
"Mature for his age"
Time and again in explaining his confidence in Elliott's ability, Hendrick turns to the young upstart's "maturity."
"He's very mature for his age and he's got a lot of talent. Going in the No. 24 car, that puts pressure anyway, but I've seen Chase handle pressure so well," he said. "Chase doesn't make mistakes. He always says the right thing. I don't think he gets rattled.
"He is extremely fast but he's also extremely careful – he doesn't wreck a lot of cars. I've seen him race against (Kevin) Harvick and Kyle (Busch) and Brad (Keselowski) and those guys in the Xfinity Series and he sure looked good.
"How do you go out at 18 years old and win a championship and not get cocky?"
Chase's toughest critic
As for Elliott, he insists he is battling no one's expectations this season except his own.
That may be difficult enough as Elliott is known for being his own toughest critic when it comes to his performance.
"I think it's as difficult as you make it. Honestly, I think for me, we're just focused on what we have going on in our circle and try to do the job that I expect of myself and just not worry about the rest," he said.
"What other people have to say really is just irrelevant at the end of the day."
Hendrick joked that sometimes he's had to encourage Elliott to take the time to celebrate or take pleasure in a good result instead of "beating himself up" for not winning.
"I've kept waiting for the 18-year-old to come out of him and do something crazy, but he doesn't," Hendrick said. "He's the whole package."
Learning from the best
What Elliott also has available to him at Hendrick besides some of best equipment in NASCAR, are teammates that are among the top drivers in the Cup series.
That asset has helped in the past, Hendrick said.
Two-time series champion and now Hall of Famer Terry Labonte served as a mentor when Gordon arrived on the scene. Gordon was a well-established champion when Johnson joined HMS.
This season, Elliott will be surrounded by Johnson, a six-time champion, and multiple-time race winners Dale Earnhardt Jr. and Kasey Kahne. Gordon will also continue to play a role at HMS in addition to his TV duties.
"Chase fits in our organization so well," Hendrick said. "He has so much respect for the other guys. I mean he legitimately respects Jimmie and Dale and Kasey. When I get them at 18 or 20 (years old), I can't teach them that. They've got to have that from their parents and how they were brought up.
"I think he's going to surprise a lot of people this year."