Jerry Bonkowski
Joseph Riddick Hendrick III – better known as simply Rick Hendrick – is one of the most respected, not to mention most successful team owners in NASCAR history.
While other team owners like Jack Roush, Joe Gibbs, Richard Childress and others are typically referred to by their first names by the media and others, Hendrick is almost always referred to as "Mr. Hendrick."
It's not Rick or Rich. At the very least, it's "Mr. H."
That shows the kind of respect Hendrick – whoops, make that Mr. Hendrick – commands, and with good reason.
I'm honored to be able to sit here with these guys tonight.
Make that for a number of good reasons:
- Not only is he one of the most prolific and successful team owners in NASCAR, he's also one of the biggest and most successful car dealers in the U.S.: a reported 80 dealerships with a value of close to $4 billion.
- He treats his 500-plus employees as family members, offering them perks and working conditions that make Hendrick Motorsports not just a career destination for current employees, but also an envied place that so many employees of other teams aspire to work for.
- He has given millions of dollars to charity, quietly and privately, not wanting to call attention to his benevolence.
- He's beaten cancer (chronic myelogenous leukemia), a battle that countless others have lost.
- Equally as personal, not a day goes by that Hendrick doesn't ache at the loss of his only son, Ricky, his brother John and John's two daughters, as well as six other employees or friends that perished in a plane crash outside Martinsville, Va., in 2004.
- And starting with a meager, under financed one-car operation in 1984, with its first win coming at Martinsville that season with Geoff Bodine behind the wheel and who helped him build the foundation of what would become Hendrick Motorsports, Hendrick has built one of the most successful racing organizations not just in NASCAR, but in all forms of motorsports.
It's no wonder he's called Mister. He deserves it for all that he's done in his 62 years on this earth.
And on Saturday came the latest addition to the superlatives that constitute Rick Hendrick the man, boss and team owner. After so many close attempts by his current quartet of drivers – five-time champion Jimmie Johnson, four-time champ Jeff Gordon, Dale Earnhardt Jr. and Kasey Kahne – Johnson handed Hendrick a most special prize.
Rick Hendrick and Jeff Gordon, Hendrick Motorsports Chevrolet
Johnson didn't just win the Bojangles Southern 500 at Darlington Raceway, he also gave Hendrick his 200th career win as a team owner, No. 1 in the modern era and second all-time to Petty Enterprises (268 wins).
"This is special, without a doubt," Johnson said. "You've got to love that man (Hendrick). He just said 200's great, but let's go get 250. … He's already put the pressure on us to go win 250."
Johnson's last few words came with a laugh and big smile, but he quickly turned back to seriousness when he added, "This is a huge moment for all of Hendrick Motorsports. There have been a lot of people over the years, a lot of years that led to these 200 wins. I thank them all. I respect them all. And I'm very proud of my race team today."
Winning 200 races as a team owner in Sprint Cup, perhaps the most competitive form of motorsports in the world, is a lofty achievement indeed. To do so in 28 years is equally impressive, meaning HMS drivers have averaged over seven wins per year during that span.
And at the core of all that success is Hendrick. He inspires his employees to do their best and be the best. He instills an attitude that winning is a benchmark of success, everything else is secondary – although to be fair, Hendrick also has been a shining example that if you're going to lose, do so with grace.
In return, Hendrick is blessed with the kind of fierce loyalty by his drivers, crew chiefs and most other employees that other owners like Childress, Gibbs, Penske and others can only dream about.
To mark the occasion of his 200th win, Johnson presented Hendrick with a special race helmet signed by every driver (or surviving family member for those drivers who are no longer with us, such as Tim Richmond) who has ever won a race for the man Johnson fondly calls "boss."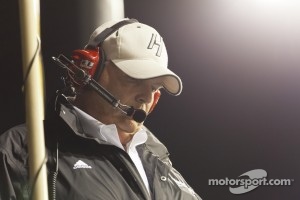 Rick Hendricks, Hendricks Motorsports
"I told somebody tonight, probably the neatest thing when I look back at NASCAR in my almost 30 years here are the friends that I've got, that I have to race against every week, Richard Childress, Joe Gibbs, Roger Penske, all those guys, great friends," Hendrick said. "This is a special – I don't care what anybody says – family. The NASCAR family is a special family. I'm honored to be able to sit here with these guys tonight. This (helmet) will be the centerpiece of the man cave."
While he's been a success in racing and business, perhaps Hendrick's biggest strength and success is how he deals with people. He helps forge unity, brings alienated sides together – who can forget the famous "cookies and milk" talk he had with Johnson and crew chief Chad Knaus when they were feuding several years ago, a talk that ultimately helped the pair go on to win a record five consecutive championships – and ultimately winds up being part father figure, counselor, leader and mentor.
That, in turn, results in unfettering loyalty, like that from Knaus, who has spent the last 19 years working for Hendrick.
"I'm proud to be part of it," Knaus said. "I've bled HMS for a long time. To be a part of this, get 200 victories, we got the 150th for Mr. H in Vegas. I guess we won our 50th victory here at Darlington; I was changing tires for the 24 car (Jeff Gordon). … To think of the people that have been there then, those that are gone, it's a proud accomplishment and glad to have done it."
Not only is 200 wins a record that most other owners will likely never even come close to, consider some other staggering numbers: HMS also has produced a collective 818 top-5s and 1,352 top-10s.
But perhaps the most staggering number is:
While Hendrick is credited by some reference sources as having drivers that have started a combined 3,015 races between them, in actuality Hendrick as a team owner has competed in just 924 Cup races in his career, meaning he has an overall winning percentage of 21.7.
Five-time champion Jimmie Johnson poses with team owner Rick Hendrick and crew chief Chad Knaus
No other team owner comes close – either in actuality or in his/her dreams.
"The people that won the early races and worked on those early cars helped Rick build Hendrick Motorsports to what it is today," Johnson said. "I think of Harry Hyde, Tim Richmond, Geoff Bodine, Ken Schrader – there's a lot of people over the years that put a lot of time and effort and commitment into this organization. I think of all those people and am so happy for Rick, his dedication to the sport and performance and the winning, I'm so happy to win his 200th."
Numerous drivers and team owners congratulated Hendrick after Saturday's race, but perhaps none was more poignant than driver-owner Tony Stewart, for whom Hendrick has played a significant part in his life as a mentor, friend, equipment supplier to Stewart Haas Racing and inspiration.
"I think it's phenomenal," said Stewart, who finished third to Johnson in the race. "Your competition essentially every year gets tougher and tougher. It's harder and harder to win these races.
"Especially for it to happen at the Southern 500, it's such a historic race and it's a pretty cool milestone. I was trying to postpone it another week by trying to get to Jimmie and just couldn't do it. The closer I got to him, the tighter I got. They won it in dominating fashion. To win a 200th race, you don't want to back into it. They dominated it and took it the way they should."
When asked if he could ever envision himself achieving what Hendrick has in his career as an owner, Stewart smiled and deadpanned, "I'll never make it that long."
Hendrick began as a race car driver himself, starting as a 14-year-old drag racer. He eventually competed in two Cup races, but after finishes of 33rd and 15th, decided to leave the driving to others and began building the empire both on and off the track that is without question the largest and most successful in the sport today.
Jimmie Johnson, Hendrick Motorsports Chevrolet with team owner Rick Hendrick
Like he has done so often over the years when asked to comment about all the success he's achieved in his life, Hendrick reflected back upon Saturday's epic accomplishment with his trademark humility and grace, yet another indicator of why he's so respected within – and so important to – the sport as a whole.
"When something like this happens, it reminds me of when I won the first championship," Hendrick said. "I never thought I'd ever get to win a championship. I never thought I'd get to race in NASCAR. I never thought I would win one.
"Then, to look back, when something like this happens to you, you've got to think that you've been blessed, number one, but then you've been blessed to be around some great, great people. To see Chad (Knaus) grow into what he's become as a crew chief, and Jimmie, when he was 16, we got him in a late-model car, then to see them do the things they've done, I feel very, very fortunate just to kind of (have gone) along on the ride."
Race winner Jimmie Johnson and the rest of the Hendricks Motorsport crew celebrate 200 wins