Bristol 500
DOWN FAST AND AWAY EVEN FASTER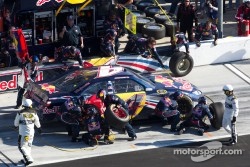 Pit stop for Kasey Kahne,
Red Bull
Racing Team Toyota
BRISTOL, Tenn. — There are six guys, and a handful of others, that rarely get the recognition they deserve during the race. Couch potatoes see them on TV, leaping from a knee-high wall — jacking, changing and rolling wheels that weigh as much as a 6th-grader.
Kasey Kahne gave his guys the credit after Sunday's Jeff Byrd 500. He said the No. 4 pit crew was the reason his Red Bull Toyota finished ninth at Bristol Motor Speedway.
"The best part about our race was our pit crew," Kahne said. "Our pit stops were awesome the entire race." Indeed, Kahne came in here, and came out there. And "there" was a spot, two or three better. Kahne's average running position was fourth best of the day (6.59). He spent 99.8 percent of the 500 laps in the top 15, which, in laymen's terms, means he wasn't running in the top 15 for only one lap. Getting in and out of the pits efficiently also meant he had enough room to turn 27 fastest laps (fifth best).
Track position means pretty much everything at Bristol with its run-everywhere banking. The No. 4 had it all day, and that translated into Kahne's second top 10 and third top 15 in the first four races. He climbed a spot to 12th in the standings and is one point out of the top 10.
"It was the best job they've done all season long," Kahne said of the No. 4 crew. "We gained spots every time on pit road."
The No. 83 crew never got the chance to show how good can be — not after Brian Vickers got sucked up in an accident on lap 28. It was the typical nowhere-to-go scenario at Bristol, and the team was forced to hack off the front end of the No. 83 Red Bull Toyota after a lengthy stay in the garage.
Vickers drove a 3,400-pound, unattractive modified the rest of the race. He finished 54 laps down in 31st. Sunday marked the third time in four races that Vickers has been the victim of circumstance. He ranks 31st in the standings — 20 points out of the top 20.
"Just need some luck," Vickers said.
UP NEXT: Auto Club 400, Sunday, March 27, Auto Club Speedway, Fontana, Calif.
-source: rbrt