Get alerts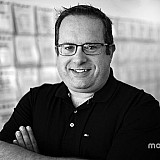 As David Ragan winds down what may be his last races with BK Racing, he's provided the organization with one of its best highlights of the season.
Ragan advanced to the final round of knockout qualifying on Friday at Martinsville (Va.) Speedway and will line up 12th in Sunday's Goody's 500 – his and BK Racing's best qualifying effort of the 2016 season.
It's also the best starting position for a BK Racing entry since Ryan Truex qualified eighth for the spring race at Richmond, Va., in the 2014 season – more than two years ago.
The fledgling Sprint Cup organization registered its company-best finish earlier this season when driver Matt DiBenedetto finished sixth in the spring race at Bristol, Tenn.
"If Joe Gibbs Racing guys qualify 12th, they may not be too happy, but this is a big deal. We out-qualified some good race cars and good race teams," Ragan told Motorsport.com. "Some weeks it seems they have an unfair advantage, but that's just how it is.
"I think going forward to Sunday, regardless of the result, I think this is something we can learn from and take some encouragement from."
Ragan, 30, said smaller, lower-funded teams like BK Racing generally relish the superspeedway races and short tracks like Martinsville because those types of racing produce a more level playing field.
"If you look at our results, those are the tracks where we've had the most competitive cars this season," he said.
Ragan's previous best start this season in the No. 23 Toyota was 21st at the fall race at Richmond. His best finish this season was 16th at the July race at Daytona. 
He backed up the qualifying effort by ending both Saturday practice sessions inside the top five on the time sheets.
What does the future hold?
Ragan, who is in his 10th fulltime season in the Cup series, said he is uncertain what his NASCAR future holds after this season.
"I don't have any commitments and I've made no plans for next year," he said. "I want to be in the Cup series. I'd like to drive the most competitive car that I can and if that's not in the Cup series, I would be satisfied with a good Xfinity program or even a good Truck program.
"I want to race in NASCAR's top three series but I'm at a point in my career where I'm not really racing for a paycheck or a bio sheet that says 'Cup driver.' I want to race and be competitive.
"My heart's in the Cup series – that's where I want to be and I want to win some more races but I want to be in the right situation."