Subscribe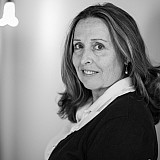 Brad Keselowski collects Joey Logano as rain returns to Bristol Motor Speedway.
BRISTOL, Tenn. – A Team Penske Ford won't return to Victory Lane at Bristol Motor Speedway this weekend.
Before the Food City 500 in Support of Steve Byrnes was red-flagged for rain at the 9:01-minute mark, Brad Keselowski and Joey Logano were already on the sidelines.
As the leaders began passing lap traffic, Keselowski, who was running third at the time, attempted to clear the No. 33 Chevy of Alex Kennedy in Turn 4 and lost control of his car.
"We're wrecking," Keselowski said. "It just took off on me, sorry about that guys."
As the No. 2 Miller Ford went sideways, his Penske teammate Logano slammed into the back of Keselowski.
"Brad just got loose racing a lapped car," said Logano, who won Saturday's XFINITY Series race after leading every lap. "He started checking up. It looked like he was going to have it saved and he checked up more than I expected and the next I know I'm into him and we're both headed towards the fence.
"It was so early in the race. I hate to see that happen…it was a bummer for both Penske cars. Both the cars were fast we were both plugging along there…It's just going to be a long day now. "
The race was initially delayed for an hour and 15 minutes due to rain. Pole sitter Matt Kenseth led the field to the green flag but was passed by Kevin Harvick six laps into the race. Harvick was the leader when the race was halted for rain.