Get alerts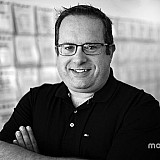 Roger Penske has 16 Indy 500 trophies as a team owner, but just four runner-ups in the Brickyard 400.
Iconic motorsports team owner Roger Penske will keep a small hole in his resume for at least another year.
Penske's driver Joey Logano made a serious run during the two-lap overtime which ended Sunday's Brickyard 400 at Indianapolis Motor Speedway but could not pull off the victory.
That leaves Penske without an elusive win in NASCAR's annual visit to the Brickyard.
Penske was trying to join Chip Ganassi as the only owner to win the Daytona 500, Indianapolis 500 and Brickyard in the same season. Logano won the 500 earlier this year and Penske's IndyCar Series driver, Juan Pablo Montoya, won this year's Indy 500.
Logano comes one position short
"I was just angry on the radio. He was happy. He was saying I did a good job," Logano said. "I know it stinks and a lot of times it's hard to take the high road when it stinks, but Roger is a great leader and he's a great guy to have on your side."
In now 41 Cup starts at the Brickyard, Penske's best finish is second four times – three with Rusty Wallace (1995, 2000 and 2002) and Logano's finish on Sunday.
Logano crossed the finish line just .332 tenths back of the winning No. 18 Toyota Camry, driven by Kyle Busch.