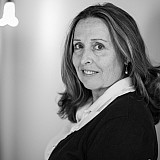 Former racer Cole Pearn is officially named crew chief of the No. 78 Furniture Row Racing Chevy.
LAS VEGAS – Cole Pearn has officially been named the crew chief for Furniture Row Racing and driver Martin Truex Jr.
Although Pearn has called races for the No. 78 FRR Chevy intermittently over the last two years, he moved into the role full-time late this season as Todd Berrier phased himself out of the position.
"We've talked about doing this for three years," Pearn said. "Todd and I have been together for a long time. Eventually you get to the point after working for so long together that you start thinking the same way. You act without really talking to each other. So I don't think it will be much of a transition because he's allowed me to do more and more over time. It will be difficult but it will be easier than just going in there blindly.
"Martin has been different the last couple of months. We started to come together as a team which has made it a lot more fun – and you do better when you're having fun."
Pearn raced in NASCAR's Canadian Tire Series and was a three-time national go-kart champion prior to shifting out of the seat and into the car-side of the sport. The 32-year-old London, Ontario native earned a degree in mechanical engineering from the University of Waterloo prior to moving south and joining the NASCAR ranks.
He used his engineering talents at Richard Childress Racing with the No. 29 Chevy and driver Kevin Harvick before he was recruited by Furniture Row Racing in Denver for 2010. Pearn took a leadership role over FRR's engineering group midway through 2011 – the same season its driver Regan Smith scored the company's first Sprint Cup win in the Southern 500 at Darlington Raceway.
Although Pearn briefly worked for JTG Daugherty Racing, he returned to FRR in 2012 and has worked to build a closer technical relationship between the No. 78 Furniture Row Racing team and RCR. With the addition of Kurt Busch at the end of the 2012, FRR prepared a Chase-contending team for the following season. The Barney Visser-owned team finished a career-best 10th in the point standings – the first single-car team to qualify for the Chase.
"We have all the resources we need to be competitive," Pearn said. "Rarely do you have the same freedom like a lot of the bigger teams. But with Barney's commitment, it's all up to us as a team. If it's not going good, you can look at yourself in the mirror and know that it's totally on you. There's nothing to hide behind."