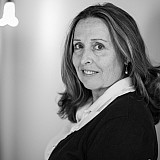 Kurt Busch's ex-girlfriend Patricia Driscoll has released an official statement in response to Kurt Busch's reinstatement.
After NASCAR reinstated Kurt Busch on Wednesday following a three-race suspension, his former girlfriend and accuser, Patricia Driscoll, released the following statement:
Patricia Driscoll statement
"Even though Kurt remains on indefinite probation under this decision, I'm deeply concerned about the message NASCAR is sending by letting him compete for the championship after he was found by a judge to have committed an act of domestic violence. But I am gratified, at least, that NASCAR's decision comes with the mandatory condition that he follow through on the treatment he so clearly needs. My work with the Armed Forces Foundation on veteran treatment courts has made me a strong believer in the rehabilitation process. But it has also taught me that rehabilitation takes time and can only come after you've taken full responsibility for your actions. Though this continues to be a difficult time for me, I remain committed to standing up for my integrity and seeking full justice."
Chain of events
Busch was suspended on Feb. 20 after a Delaware Family Court issued its opinion as to why a protective order was granted to Driscoll against the driver following her allegation of domestic abuse. While Commissioner David W. Jones, who is not a judge as Driscoll described him in her statement, nor an elected official, wrote in his opinion that "a preponderance of the evidence that the alleged domestic violence has occurred."
Jones' opinion went on to read "Abuse is established by a preponderance of the evidence when the evidence established that the abuse is more likely than not to have occurred. In other words, if the Court finds that the probability that the Respondent committed an act of abuse on the occasion alleged in the Petition exceeds fifty percent, the Court is required by statute to enter an Order restraining Respondent from committing acts of violence against the Petitioner and granting such other relief as the Court finds necessary or appropriate to prevent or reduce the likelihood of future domestic violence."
Last Thursday, the Delaware Department of Justice confirmed that criminal charges would not be sought in the car after it was "determined that the admissible evidence and available witnesses would likely be insufficient to meet the burden of establishing beyond a reasonable doubt that Mr. Busch committed a crime during the September 26th incident." 
On Feb. 19, Busch's lawyer Rusty Hardin requested that the Kent County (Del.) Family Court re-open the hearings on the original protective order based on additional evidence.