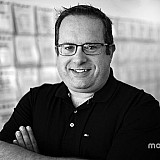 The strong NASCAR Sprint Cup rookie class of 2016 arrives at the ideal time for the series. Jim Utter explains why, and gives the low-down on the five potential stars
In NASCAR's premier Sprint Cup Series in recent seasons, that longtime adage has seen little practical effect, with few fulltime newcomers to the series and rookie classes that struggled sometimes to include one or two participants.
One of the exciting storylines entering the 2016 season – and there are many – includes a solid, talented group of Cup series rookies, several in very high-profile rides, which should provide a welcome influx of new talent and a competitive battle among themselves for rookie of the year honors.
This group features some very familiar and successful bloodlines in NASCAR history, which would generate interest even if the participants' talent didn't speak for itself (which it does).
So far, there appear to be five solid entries for the 2016 Cup rookie class – Ryan Blaney, Chris Buescher, Jeffrey Earnhardt, Chase Elliott and Brian Scott.
Both Elliott – the son of NASCAR legend Bill Elliott – and Buescher have already won NASCAR championships, both in the Xfinity Series (Elliott in 2014, Buescher in 2015).
Blaney, the son of NASCAR and sprint car veteran Dave Blaney, has already amassed eight combined wins in the Xfinity and Truck series since 2012. He spent this past season running a partial Cup schedule with the Wood Brothers, with a career-best fourth-place finish at Talladega, Ala., last April.
Earnhardt, who will share driving duties at GoFas Racing with veteran Bobby Labonte, is the grandson of the late Dale Earnhardt Sr. His father, Kerry Earnhardt, made more than 100 starts in NASCAR's top three series in his career.
Scott spent the past six seasons running in the Xfinity Series, finishing a career-high fourth in the series standings in the 2014 season. This year he has moved to Richard Petty Motorsports (another iconic name in NASCAR), driving the No. 44 Ford in the Cup series.
Their arrival couldn't come at a more welcome time for the sport. Some of NASCAR's most successful and popular drivers have already elected to end their driving careers, or are beginning to consider the timing of their exit plans.
Four-time series champion Jeff Gordon has already moved from the driver's seat to the Fox Sports broadcast booth. Tony Stewart is preparing to begin what will be his final season of fulltime NASCAR competition.
Other stars have already started speaking publicly about their down-the-road exit strategies, including NASCAR's most popular driver, Dale Earnhardt Jr. and six-time champion Jimmie Johnson. And drivers such as Matt Kenseth, Greg Biffle and Kevin Harvick could soon join the conversation.
These are enormous shoes to fill, both in terms of driving talent but also as far as drivers whose performance and personalities move the needle of race fans' passions and help connect them to the sport.
Despite the rhetoric that's often heard for the search for the "next Jeff Gordon" or whatever famous driver name you'd like to use, finding replacements are nowhere near such a clean-cut process. That's because there has always been – and there is even more so today - far more to a driver's required résumé than simply talent on the track.
For one, racing is an expensive sport and even the grassroots development series require enormous time and financial commitments in order to get the most out of them. Second, that financial commitment generally means involvement of corporate sponsors needed to help foot the bill, and that in turn requires a driver to also play the role of spokesperson for a product or service, whether in front of a room full of media or boardroom of investors.
If a big company is going to spend millions to sponsor a driver in a big NASCAR series, you can bet it's going to want to use said driver in advertising campaigns. Generally companies aren't satisfied with simply stickers on a car hood.
And of course, NASCAR is known as a "contact sport," and we've seen over the years the various types of incidents drivers can find themselves in the heat of competition. How they react to such incidents both on and off the track can often determine their relationship with the fanbase as well as with fellow competitors.
Will there always be drivers available to fill seats? Yes. But as is often said, filling the shoes is much more difficult than taking one's place.
The 2016 Cup series rookie class appears a solid start on the difficult road of entertaining the next generation of NASCAR fans.