Get alerts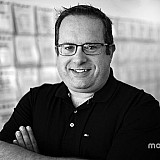 One of the key architects of Kyle Busch's 2015 NASCAR championship run with Joe Gibbs Racing was seen mostly in the background this season, but it was not by choice.
In March, JGR announced team president J.D. Gibbs had started treatment for symptoms related to brain function.
At the time no specific diagnosis was given to Gibbs' problem but a team release said he had experienced "a gradual onset of symptoms that includes speech and processing issues."
In the months since, Gibbs – the son of former NFL coach and team owner Joe Gibbs – has made appearances at the track, many times seen enjoying the fruits of a JGR driver's win in Victory Lane.
J.D. Gibbs no longer has the prominent public role he had in years past but Joe Gibbs said JGR's entire racing venture can be traced to his son – a fact he plans to share with fans in his speech during Friday night's NASCAR Sprint Cup Series Awards at the Wynn Las Vegas.
"When we first started, J.D. was the guy who first prompted us all to try something in motorsports," Joe Gibbs told Motorsport.com on Thursday. "He was there when we kind of put down a dream on a piece of paper.
"He's devoted 24 years of his life to this. We're an unusual organization because we have Todd Meredith (chief operating officer), J.D., Dave Alpern (chief marketing officer) and really Tim Carmichael (chief financial officer) all came on the scene and they have spent almost all of their vocational lives working with our race team.
"J.D. is a big part of motivating, getting it done and getting us started and it's a thrill he'll get to celebrate with us, too."
Gibbs, 46, has served as JGR's president since October 1997. He is a former college football player at William & Mary and made nearly 30 starts in what are now known as NASCAR's K&N Pro, Xfinity and Truck series between 1999 and 2002.
When Joe Gibbs returned for a second stint as head coach of the Washington Redskins in 2004, J.D. became the de facto public face of Joe Gibbs Racing.
J.D. was on hand in Homestead, Fla., for Busch's win which brought him his first Cup series championship and the fourth for JGR (and first since 2005). Joe Gibbs said J.D. is expected to arrive in Las Vegas Friday morning to attend the championship celebration.
Joe Gibbs said he has for the most part tried to stay out of the media with his son's condition but since the public announcement he has been overwhelmed by the response from fellow NASCAR participants and fans.
"I'll walk in Washington, D.C., and there will be people who walk up to me and say 'We're praying for J.D.' "It has meant so much to have so many people share their concern and it's probably the No. 1 thing that is mentioned to me no matter where I am.
"I think the NASCAR community, too, in so many ways it's very tight-knit and when somebody has a struggle, it's like everybody comes on board. I can't tell you how many people that have said to me, 'If there is anything we can do, you tell us.'
"I really appreciate that and I know our family does."