Stewart-Haas Racing press release
RYAN NEWMAN
Engineering a Win for the Soldiers
KANNAPOLIS, N.C. (Feb. 21, 2012) – Ryan Newman has a million reasons to win the 54th Daytona 500.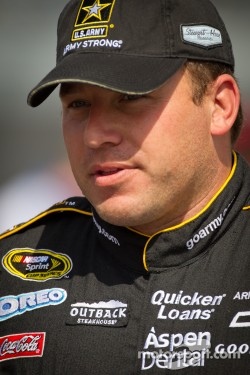 Ryan Newman, Stewart-Haas Racing Chevrolet
As he climbs behind the wheel of his No. 39 U.S. Army/Quicken Loans Chevrolet Impala for Stewart-Haas Racing (SHR), Newman does so knowing that the more than 1 million Soldiers serving around the globe are cheering for him to make a return to victory lane in the "Great American Race," which he won in February 2008.
Newman, of all the drivers in Sunday's season-opening NASCAR Sprint Cup Series race, knows that getting a win at Daytona (Fla.) International Speedway takes the perfect combination of skill and luck.
In 2008, Newman found just the right combination. While he led only a handful of laps during the 200-lap contest around the 2.5-mile oval, Newman took the lead on the backstretch on the final lap and was pushed to victory by then-teammate Kurt Busch. It was a dream-come-true for the South Bend, Ind., native.
Unfortunately, in recent years, it's been a series of wrong-place, wrong-time incidents that have either put Newman out of the race for good or have caused so much damage to his racecar that he could do little more than limp to the checkered flag.
Newman's outing in 2009 at Daytona – where he was the defending winner of the Daytona 500 – could serve as a microcosm of his ongoing bad luck at the superspeedway.
A quick look at Newman's trials and tribulations during that Speedweeks reveals plenty. The No. 39 was involved in an on-track incident in his Gatorade Duel qualifying race while running in third place, forcing him to a backup car for the Daytona 500. Then, in the final practice of the weekend, he suffered a cut right-rear tire that set off a chain-reaction crash with his SHR teammate, Tony Stewart, forcing Newman to a second backup car in as many days. He finished the race in 36th.
Since then, Newman hasn't finished better than 20th at Daytona (the July 2009 Coke Zero 400) and has endured three finishes of 34th or worse.
Despite Newman's rotten luck, the No. 39 U.S. Army/Quicken Loans team has refused to give up. And, like good Soldiers, Newman and his No. 39 teammates have persevered, tackling each trip to Florida with a strong and determined mindset to put the past behind them and reverse their fortunes.
Last year, the team had an impressive performance in the Daytona 500. The No. 39 Chevrolet led a race-high 37 laps – a first for Newman and his No. 39 team – and he looked to be a contender for the win before being collected in a multi-car crash just three laps before the scheduled end of the race, relegating him to a 22nd-place finish. Newman and his team felt they were just two-and-a-half minutes from victory.
Back at Daytona in July for the Coke Zero 400, Newman again had a dominant car, leading a race-high 25 laps. But in the end, he was relegated to a 23rd-place finish after getting shuffled out of the lead on the race's final restart and was soon collected in a last-lap wreck.
In the midst of recent heartbreak at Daytona, those strong runs have given Newman & Company the confidence and hope that maybe, just maybe, luck is finally on the team's side as it prepares for the 54th running of the Daytona 500.
This season, new sponsor Quicken Loans has joined the No. 39 team beginning with Newman's latest attempt to win the Daytona 500. Quicken Loans – with its "Engineered to Amaze" tagline – is one of the nation's largest Veterans Affairs (VA) mortgage lenders and helps thousands of active and retired servicemembers and their families achieve their dreams of home ownership each year. It's a partnership that augments the team's tenured relationship with the U.S. Army incredibly well, for the Army is the backbone of the country, the Soldier is the backbone of the Army, and the family is the backbone of the Soldier.
It's the complete package that allows Newman and his No. 39 U.S. Army/Quicken Loans team to embody the strength of the U.S. Army Soldier as they work to engineer an amazing win in the Daytona 500.
RYAN NEWMAN, Driver of the No. 39 U.S. Army/Quicken Loans Chevrolet Impala for Stewart-Haas Racing:
Stewart-Haas Racing has been successful in bringing new sponsors. This year, you're sponsored by U.S. Army and new sponsor Quicken Loans, and both are on the car for the Daytona 500. What does that mean to you?
"I've said for the past several years that it is an honor to represent the U.S. Army. We know that we are representing a million Soldiers across the globe who are fighting to give us the freedom to do what we want to do, and I'm very grateful for what they do for us. I know I have a million reasons to win every time I put on that U.S. Army uniform. Then, you look at Quicken Loans: 'Engineered to Amaze' – that's not just because of their racing program, that's what they believe in. So, tying in my engineering degree to what they believe in and the things they do is going to be pretty cool. They're a great company, and they have a unique relationship with the U.S. Army and the military because they're the nation's VA mortgage lender. So it's really a perfect fit on a lot of levels."
You won the 50th running of the Daytona 500. What did that win mean to you personally?
"My win there in the 50th Daytona 500 was nothing short of a dream come true. I had always said that just to race at Daytona was an honor and, to win at the track during the historic 50th running, was something very special to me. And to do it the way we did – with my teammate pushing me and to hear my dad (Greg Newman) call me across the start-finish line to take the checkered flag and win the biggest race of my career was a moment I will never forget. I always say I could hear my dad's teardrops on the radio that evening, and I could. I still don't know exactly what to say when people ask me about the Daytona 500 win. It was by far the biggest day in my career. It was the culmination of everything that me and my family had sacrificed for all those years of building my racing career and getting me to that moment."
How do you feel going back to Daytona?
"It's the biggest race of the year. It's the same for everybody and you have the opportunity to beat every part of the competition. That's the goal. In 2008, we had a good car. We had a good team. The seas parted. We opened the back straightaway up and, all of a sudden, boom. We had a shot at it, and we did it. We just need to put ourselves in that position again. That's all you can ever ask for."
You and the No. 39 team had great runs last season at Daytona, particularly in the Daytona 500. Does that give you more confidence going into this race? How do you feel after Saturday night's run in the Budweiser Shootout?
"Last year, we led the most laps in the Daytona 500, which was a great feat for us as a team. It was the first time for me at a restrictor-plate track and the first time for me at SHR. And we feel we were four laps away from winning that race which, if you equate it to math, time-wise it's two-and-a-half minutes. To be two-and-a-half minutes away from something so big and get crashed is pretty disappointing. It happens, and it seems like it's happened to us a lot, but we still left Daytona knowing we had something and we were in the mix to bring home the trophy, and that was a big deal for us.
"It's a different rules package this time around, and I wasn't real confident with it and my car in this past Saturday night's Budweiser Shootout. We have a little work to do with our cars and, hopefully, with more practices and the Duel race on this Thursday, that will change. The good thing was that we were able to bring our No. 39 Chevrolet home without any damage in seventh place and, for us, that's like a win at Daytona."
How much of the Daytona 500 is luck versus skill?
"I've always said there is luck in racing. You create the destiny of your own luck. That luck can be good or bad . You have to prepare yourself to get out of the bad luck and into the good luck. When I won, part of it was lucky, part of it was the timing of things, part of it was Kurt (Busch) driving his tail off to get behind me coming off turn two – that was skill, and for me it was luck. It's all a matter of opinion. You can ask the 42 other guys out there and they might have thought I got lucky when I won. For me, I thought it was skill."
Has it gotten easier to learn how to navigate the racecar at restrictor-plate tracks?
"I wouldn't say it is easier in the draft. The cars are so much closer together now that it's harder to gain a little advantage. Back in the day, it was easier to get a draft or get a tow than it is now, but you cannot race from the past, you have to race the way it is now. Five years ago, the track was different and so were the cars and the tires. No matter what we all show up and try to race, sometimes you have a guy who has never driven a race win and, sometimes, it takes a guy like Dale (Earnhardt) Sr., what, 20 years to win. Unless we want to redefine the racecars, we are speculating. My point is that it is what it is, you can't fix it, and you have to deal with it."
Would you rather race in a two-car tandem draft or in a pack?
"I would rather race in a two-car draft because I have the opportunity to make my car better with his car and his car better with my car. Whereas, when we are in a pack, we are at the mercy of the speed of the pack. We saw last year – and I would speculate that's why fans do not like the tandem drafting – we did not see near as many big crashes. When there are 30 cars of the 43 in one big pack and something happens up front, you wipe out 20 cars. Fans love it. Whether it's right or wrong, they love it. I like being the front car of the two-car draft. I don't like being the second car. The only good thing to being the second car is you are the last one to the scene of the crash. But, in the end, you play with the rules you're dealt."
Do you feel like there's added excitement going to Daytona this year with Stewart-Haas Racing because of the way the organization closed out last season with a championship?
"It's awesome to see what we did as an organization. But, at the same time, I'm the protective guy in the back saying, 'Man, we can't get caught surprised here at Daytona thinking that we're awesome and did all these great things and nobody's going to beat us again,' because that's not the case. Those guys we beat from an organizational standpoint are fired up and mad, and they've been working really hard. So, it's our responsibility to do that and more. With the addition of (Greg) Zipadelli (competition director) and Steve Addington (new crew chief for Tony Stewart's No. 14 Chevrolet), I'm really excited about it. But I don't want the headlines to be, 'What happened to Stewart-Haas? Why did they flop?' And I don't think it's going to happen, but that's the way my mind works."
What do you carry over to your team this year from last season?
"I feel like Tony Stewart whipped my tail, which he did, and I'm proud to be a part of it. But, at the same time, I'm more prepared to go back and fix the things we need to do on our side to be able to go back and make sure we're strong as an organization, so we don't just win one. We can win two, three, four in a row.
"We have the knowledge that we're capable – as an organization – of winning a championship. The No. 39 team was capable of that last year. We didn't get it done and the No. 14 team did, which is still rewarding because we were part of it. But, from our standpoint, we have to fix what we did wrong. We have to prepare ourselves to beat everybody else because they're preparing themselves to beat Stewart-Haas.
"We have to be a better team on the '39' side of things all the way around. Not just in the last 10 races, but all the way around to have our shot at a championship because good doesn't cut it, anymore. You have to be great to win a championship."