Stewart-Haas Racing press release
RYAN NEWMAN
Hunting for This Season's First Bloomin' Win
KANNAPOLIS, N.C. (March 27, 2012) –As an avid outdoorsman, Ryan Newman doesn't shy away from a hunt. Whether it's simply the opportunity to breathe in the fresh air of the great outdoors or the adrenaline rush he gets from catching his prey, Newman doesn't deny the thrill he gets.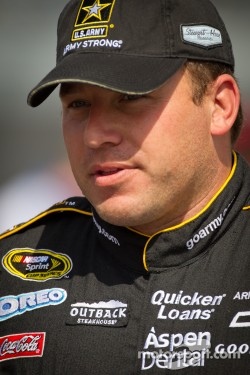 Ryan Newman, Stewart-Haas Racing Chevrolet
It's a thrill Newman also enjoys on the racetrack each weekend.
Newman's "hunt" will be in full force as he searches for his first win of the 2012 season behind the wheel of the No. 39 Outback Steakhouse Chevy as the NASCAR Sprint Cup Series rolls into Martinsville (Va.) Speedway for Sunday's Goody's Fast Relief 500,.
After watching his boss and teammate Tony Stewart collect his second win in the past three races Sunday at Auto Club Speedway in Fontana, Calif., Newman and the No. 39 Stewart-Haas Racing (SHR) team are ready for their turn to celebrate in victory lane. And, for the No. 39 team, there may be no better place to hunt down the competition and capture that first win than at the .526-mile paperclip-shaped Martinsville oval.
There's no denying Martinsville has been one of the best racetracks on the circuit for the No. 39 team.
In six races at the Virginia short track since joining SHR, Newman has earned one pole, one outside pole and four top-10 finishes. And he has been a contender in each of the six races. In fact, in the other two races at Martinsville – a 20th-place effort in the fall of 2010 and a 30th-place effort in the spring of 2011 – Newman's No. 39 Chevy was one of the cars to beat before experiencing part failures that essentially ruined his chances.
In 20 career starts at Martinsville, Newman has three poles, six top-five finishes and 10 top-10s. He even came close to victory in October 2007, when he finished second – his best finish at the challenging short track.
But perhaps the biggest weapon Newman, his crew chief Tony Gibson and the Outback Steakhouse team are bringing to the track this weekend is Chassis 39-645. The chassis has one win, two poles and two top-10 finishes.
It debuted last April at Martinsville, where Newman started second and, for the first 327 laps of the 500-lap Goody's Fast Relief 500, he and the No. 39 team looked to be a sure bet for a top-10 finish, or even a contender for the win. Newman led three laps and ran solidly in the top-10 for most of the afternoon. But his good fortunes came undone on lap 328 thanks to a broken header pipe that sapped his car's horsepower for the rest of the race, and a flat left-rear tire that sent him for a spin off turn three later in the race. Those events conspired to put Newman two laps down and relegated him to a 20th-place finish.
Last July, Newman drove Chassis 39-645 at New Hampshire Motor Speedway in Loudon, where he started on the pole and led 119 of 301 laps en route to his 15th career Sprint Cup victory. Two months later, he drove the same car at Loudon, started on the pole once again and led the first 62 laps, but finished a disappointing 25th as a cut tire with less than five laps remaining dropped him out of the top-10.
The chassis made a return trip to Martinsville last fall, when Newman started 12th but led 41 laps and ran inside the top-10 for much of the day. Despite a late-race spin, Newman grabbed 10 spots from his competitors in the closing 25 laps, to finish a solid 10th.
There's no doubt Newman has a good car and a solid history at Martinsville. And after earning his second top-10 finish of the season last weekend at Fontana, Newman also has momentum on his side. Now sitting 10th in points, 40 behind leader Greg Biffle, Newman is in the hunt for that first win, as well as a coveted berth in this year's Chase for the Sprint Cup Series Championship. He is primed to continue his move up in the Sprint Cup standings this weekend.
While his sponsor Outback Steakhouse has been celebrating Newman's top-10 finishes this season with a free Bloomin' Onion® for its customers on Mondays, Newman wants to give his fans and his new sponsor something else to cheer about in Sunday's Goody's Fast Relief 500 – his first "Bloomin'" win of the 2012 season.
RYAN NEWMAN, Driver of the No. 39 Outback Steakhouse Chevrolet for Stewart- Haas Racing:
You seemed to have struggled at Martinsville early on in your career but, more recently, you have been a contender each race. To what do you attribute that change?
"In all seriousness, we struggled with the brake package for a little while and I struggled learning how to drive this racetrack. Once we got those two things figured out, both at Penske (Racing) and now at Stewart-Haas, we've been in pretty good shape. We've been really strong here in qualifying and our Sundays have gotten better. We failed a rear gear here in a race we probably should have won, and we had an exhaust pipe fail in the spring race last year, which was another race we felt we should have won. We feel like, if it means anything, the track owes us a couple. But that doesn't really mean anything when everyone shows up here on Sunday. Look at the stats for me and our (No.) 39 team, and we're really good on short tracks and really good on flat tracks. I look forward to it."
From a driver's point of view, what does this track take to be successful? What do you go through in the car and what is your thought process?
"Martinsville is very much a finesse racetrack – from a braking standpoint, but also the acceleration part of it, too. You can really chew your tires up on the concrete before you get to the asphalt getting back to the gas, and you have to get back to the gas, but how you do it can make a really big difference in how good your car is for a whole fuel run. A fuel run here is roughly 110 to 120 laps, and you only get three or four times to do that. Tires are important but, if the race goes green for a long time, you can go a lap down by not managing your racecar. For me, I'm thinking about who's around me, what to expect at the start of the race, how good the car is, what we need to work on, those kind of things. Sometimes your competition is more you than anybody else."
So what do you like about Martinsville, now?
"We've got a good setup at Stewart-Haas. I enjoy the simplicity of the track. I enjoy the fact that you have to brake. Tracks you go to where you don't have to brake just means more people can be closer to driving it because it requires less skill. The tracks where you have to operate that third pedal, it makes a big difference when it comes to driver ability. I think that's why some people don't enjoy Martinsville, at first. I didn't enjoy Martinsville, at first. It was a big challenge. As simple as it is to hit the brake pedal, it's pretty complex when it comes to doing it right."
The No. 39 team has a history of doing well at short tracks. What is it about short tracks that you like?
"I like using the middle (brake) pedal. In all seriousness, I think it adds another parameter of a driver's input when you have to modulate that third pedal. We have to go to places like Las Vegas and you're using very little brake. When you are using a little bit, it's hard to screw it up. I think our team has done a really good job with the brake package we have. I like the short tracks. I like having the character added to the program of modulating the brake. In my opinion, the driver has a little more of an impact on the end result at short tracks than some of the bigger racetracks, and I like that. The more the drivers are involved, the more I think you get to race and, from that standpoint, I think it's more fun. Tony Gibson (crew chief) has some great setups with our short-track program. I enjoy them, he enjoys them, and we just go out there and have some fun. We've had a good car each time we've been to Martinsville. Gibson is a great fan of Martinsville and short-track racing, and he's got a great understanding of the racecar there and what I like, and that makes a big difference, obviously, for me. We've had some good runs Martinsville, and we're looking forward to continuing that streak this weekend."
Talk about bringing Chassis No. 39-645 back to Martinsville this weekend?
"It's a car we've had a lot of success with in just four races, and obviously a car I like. It's got two poles and started on the outside of the first row, so it's been a good car to qualify with, for sure. We got that win at New Hampshire and, while the other three results may not show it, it's run well and we led laps at both Martinsville races and the fall New Hampshire race last year, too. I really think we felt like we had a couple of good finishes get away from us in this car so, hopefully, we can have a good run with it again this weekend at Martinsville."
How special would it be for you to win at Martinsville and take home the grandfather clock?
"Very special, because we built a big log cabin and that's one of the places we left open. This was back in 2007 and I still haven't filled that void on the wall or on the floor, I guess, depending on how you look at it. So, I'm ready. I told someone the other day when I was up at Martinsville for a media deal that I hadn't ever eaten one of the hot dogs there and maybe I should. Maybe that will get me into victory lane."
Your sponsor Outback has given fans a free Bloomin' Onion on Mondays when you finish in the top-10 in the race on Sundays. Have you taken advantage of the free Bloomin' Onion?
"Absolutely. They know me by name at the Outback in Statesville (N.C.). I think we've had the opportunity to have had a top-10 every Sunday this year, but we've had some back luck and have gotten caught up in some wrecks not of our making at the end of the race that dropped us out of the top-10. So, I'm sorry we've only had two Mondays of free Bloomin' Onions for fans, so far. But we'll make up for it. This is a good track for our team and we have a really good car underneath us so, hopefully, after Martinsville, Outback will be giving out a lot of free Bloomin' Onions."