Charlotte Motor Speedway
RYAN NEWMAN, NO. 39 U.S. ARMY CHEVROLET met with media at Charlotte Motor Speedway and discussed the US Army and Memorial Day, his foundation and animals affected in the recent tornados, the Kyle Busch situation and other topics.
ON WORKING IN CLOSE RELATIONSHIP WITH THE U.S. ARMY, PARTICULARLY ON MEMORIAL DAY WEEKEND, IS THAT A SPECIAL DEAL FOR YOU?"It is. We've been fortunate here before to win the pole and we ran second here a couple of years ago with the U.S. Army on the car so another opportunity here Memorial Day weekend and it's always an honor to represent the soldiers. Obviously there are a lot of fun festivities that are going on pre-race, that are military-related. A lot of soldiers are going to be here from Ft. Bragg and we'll do our best to represent them each and every week and especially this weekend."
DOES THE NATURE OF THIS RACE, THE LENGTH AND DAY TO NIGHT, MAKE IT MORE OR LESS LIKELY FOR A TEAM TO BREAK AWAY FROM EVERYBODY ELSE? "I think a big part of that depends on the caution flags when you get bunched back up, because you can have a bad run on your second fuel run and be one of the slowest cars on the track if you pulled the lead out and still stay out front. So a good part of it is the restarts because the restarts are so chaotic it seems. But yeah, a team can dominate with or without the temperature change and the track change and everything else. The guy who leads the most laps might only lead 50 of them, you just never know."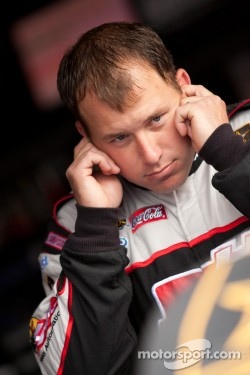 Ryan Newman, Stewart-Haas Racing Chevrolet
HOW MUCH HAVE THESE CARS CHANGED SINCE THEY WERE INTRODUCED IN 2007? HOW MUCH DIFFERENT IS WHAT YOU'RE RUNNING NOW THAN WHAT YOU RAN SIX MONTHS AGO? "They've changed a lot when it comes to the handling of it. We've don't a lot to make them handle a lot better. Kyle Busch's first comments were pretty spot-on, even though nobody really wanted to hear it, in saying that they've gotten safer; and we as teams, the biggest changes we've made is just working to reduce the weight in the cars and putting the weight in the right spot. That's been a big help with reference to the tires themselves and getting to use the left-side tires a little harder instead of the right-side and having the problems we had like at Indy a few years ago. So, just working with them and getting that notebook is a big part of making them consistent and being able to unload and not have guys…. Two or three years ago or whatever it was, you'd go out there for first practice and you'd see splitter marks all over the race track from guys just clobbering the splitter. And now guys have a lot better understanding of where we need to be and what the speed's got to be like in the race track and how we work with these race cars. I think a part of the help as well has been going back to the spoiler because obviously there's years and years of history with the spoiler and the notes that go along with it."
CAN YOU TALK ABOUT THE WORK YOUR FOUNDATION IS DOING TO HELP THE ANIMALS AFFECTED BY ALL THE TORNADOS IN THE MIDWEST? "Our work effort started in the Tuscaloosa area of Alabama and we've got a great partnership with our foundation with the IAMS Pet Food Corporation. They've actually donated a truckload of pet food and we had a truckload of pet food that went down there as well. So we packed up a semi-truck; I did it myself with by big old tractor and packed up a semi-truck full of pallets and shipped it off down there. So, just doing what we can to make a difference. Fortunately from what I've been told they're in a good situation where they've had a lot of donation, it's just a matter of getting it distributed down there. So I think a lot of the things that have been sent go to warehouses so that it can be distributed timely so there's not an influx with a bunch of dog food that people can't use right away.
"Our foundation is all about animal welfare. We do a lot to help control the over-population and the understanding that goes along with that, but at the same time whatever we can do to help the animals. When people can't help themselves, they're surely not going to help the animals that they love as well. So we have to do to what we can. And we're blessed with the opportunity to do what we can and make a difference for those people and those animals."
WHEN YOU'RE NOT MAKING APPEARANCES AT MILITARY BASES, DO YOU CONTINUE TO HEAR FROM SOLDIERS? IF SO, WHAT DOES THAT MEAN TO YOU? "I don't have direct contact with soldiers on a day-to-day basis, or even a week-to-week basis. I talked to Colonel Crotts, one of our heads, he's the motorsports guys; I talk to him randomly via text. But we stay pretty busy doing the things that we do at the race shops on Mondays and the meetings and whatnot. And it's nice to have a couple of days to yourself before you get to head back to the race track again. But there is a lot of communication and obviously this weekend more so than others with soldiers at the race track and doing meet-and-greets. I'd say I do more than most when it comes to visiting places like Walter Reed and the things that we do with the wounded soldiers and trying to make a difference and an impact there because of what I wear across my chest."
DO YOU THINK THERE SHOULD BE A NASCAR SANCTION AGAINST A DRIVER WHO WAS CHARGED, AS KYLE BUSCH WAS CHARGED WITH SPEEDING THIS WEEK? "If you don't have to have a driver's license to compete in the series, then what happens on the street has no affect as to what happens on the race track in my opinion. That's what you hold a driver's license for. If he's charged criminally, then that's a different situation, right? Versus being charged with a driver-related issue. Maybe that makes sense, I don't know."
Ryan Newman, Stewart-Haas Racing Chevrolet
DO YOU KNOW IF YOUR FOUNDATION IS MAKING EFFORTS TO ASSIST IN JOPLIN, MISSOURI? "I don't know if we've done anything or if we are going to do anything. I kinda know what happened in Joplin and I know it was similar to what happened in Alabama, but I'm not 100% sure. Like I said, we've partnered up with Iams and Iams has been a big part of what we do with our foundation to make that difference. They are the outlet for our donations with the pet food and everything else. I'm not saying anything hasn't been done, but it did take us a couple of weeks in Alabama to react to that situation."
CAN YOU TALK ABOUT COMING TO KANSAS TWICE AND WHAT THAT MEANS FOR YOUR TEAM? "For me, I'm like anybody else, I guess I could say in that we don't know exactly how it is going to be. For me, I think about the race track and if the race track it is going to be super slick because it is a hot, sunny day and it is way hotter than it was in the fall. Those types of things. That is what I think about. To me, in the end, it is just another race, but I want to go there knowing what I need to do to my race car to make it fast, to make it capable of winning."
WITH YOUR PREVIOUS EXPERIENCE AT KANSAS, WOULD YOU EXPECT WHAT TRANSPIRES HERE KIND OF SHOW THEMSELVES AGAIN AT KANSAS NEXT WEEK? AS FAR AS THE CAR AND THE RACE TRACK, IS IT THAT SIMILAR? "No, it is totally different. It is a totally different type of race track. Much less vertical load there. Track position is even more important there. The seams with the asphalt are sensitive there. There are different things that for sure standout at Kansas City than here at Charlotte. It used to be a place like Kansas was kind of similar to Las Vegas or Chicago. Between our tire situation that we have now in reference to how many different tires we run throughout the year, there is much less similarities between tracks because of the tire differences."
BACK TO THE KYLE SITUATION. WHAT MAKES IT DIFFERENT IN REGARDS TO CRIMINAL AS OPPOSED TO A LICENSE, AN ACTION IS AN ACTION? SECONDLY THERE IS A LOT OF RUSH ON THE PUBLIC'S BEHALF FOR SOME KIND OF JUDGEMENT, SOME KIND OF ACTION UPON THIS, DOES IT NEED TO GO THROUGH THE COURTS AND WAIT OR DOES SOMETHING NEED TO BE HAPPENING UNDERSTANDING THAT YOU COULD BE IN A SITUATION LIKE THAT, NOT SAYING YOU WOULD, BUT FATE, BUT IF SOMETHING HAPPENED, IT WOULD BE COMING DOWN ON YOU? "My point about the license part of it is if you don't have to have a driver's license to compete in the NASCAR Sprint Cup Series, then, no matter what, it's DMV (Department of Motor Vehicle) related in my opinion. If he would have clobbered a mail box at 128, then that is a Federal situation. There are different ways of looking at it is my point. If something was to happen to it…it is just a private car incident that has no affect on his eligibility to drive a Sprint Cup car or a Nationwide car. But, to me, it is a very gray area in reference to the police officer and what he did as to how he got away as clean as he did. I think that is probably your judgment question. If it was you running 128 in a 45, would he have treated you the same way? Every officer has to answer that question a different way depending on who he is dealing with."
THERE'S A LOT OF RUSH TO JUDGMENT, THE TEAM SHOULD DO THIS OR NASCAR SHOULD DO THAT, AS A DRIVER SOMEBODY WHO COULD POTENTIALLY BE IN A SITUATION LIKE THAT IS IT OKAY THAT JUDGMENT BE DIRECTED THAT THE TEAM DO SOMETHING OR DOES IT NEED TO WAIT THROUGHT THE COURT PROCESSES? "In respect to how the team treats him?"
YOU'VE EXPLAINED WHY YOU DON'T THINK NASCAR SHOULD DO ANYTHING. "I don't think NASCAR can do anything because they don't require a driver's license."
THOSE IN THE PUBLIC ARE SAYING 128 IN A 45 ZONE, SOMETHING HAS TO BE DONE. "That's just what they clocked him at, he could have been going faster. (laughter)."
THE NEXT THING PEOPLE WILL LOOK AT WILL BE THE TEAM OR SPONSORS, SHOULD THEY ACT BEFORE IT GOES THROUGH THE COURT PROCESS OR SHOULD HE BE ALLOWED TO GO THROUGH THE COURT PROCESS AND WHAT'S DETERMINED THERE BEFORE ANY KIND OF DISCIPLINE TAKES PLACE? "It's just as you said. It's a judgment situation where I don't think there is a right or wrong answer. In multiple people's eyes, is Joe Gibbs going to react to it in the same way that M&M's or Interstate or anybody else does, I don't know. That's not for me to judge. I believe that he made a big mistake, he openly admitted that he made a big mistake from what I read although it sounded like somebody else wrote it and not him. We're supposed to be professional race car drivers and by being professional race car drivers we don't make stupid mistakes like that on the road. That's the way I look at it."