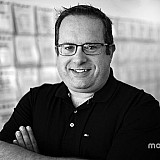 Drivers raised doubts about the package after Indianapolis, but NASCAR will push forward with it at Michigan.
NASCAR officials confirmed Wednesday they will proceed as planned with a test of their high-drag aerodynamic package on Sprint Cup Series cars next month at Michigan International Speedway.
Cup teams and their representatives took part in a previously-scheduled meeting on Wednesday with NASCAR competition executives and expressed concerns over the package's performance last weekend at Indianapolis Motor Speedway, sources confirmed to Motorsport.com.
NASCAR, however, plans to give the package another try at Michigan with little, if any changes.
The package was desired to help spur more passing and "pack racing" but came far short of expectations in Sunday's Brickyard 400.
Negative response to Indianapolis
Reaction from drivers, media and fans has been mostly negative in the race's aftermath. Statistically, the race produced 16 lead changes, one more than the 2014 race. That was still the second fewest since 2011. Also, green-flag passes throughout the race were down 587 from the previous year, according to NASCAR's loop data statistics.
NASCAR Vice Chairman Mike Helton said during an interview earlier this week on SiriusXM NASCAR Radio that the sanctioning body would continue to work to improve the racing product.
"We want our product on the race track to be pleasing to the fans — and that means close competition," he said. "You can walk through the garage are and ask 15-20 different people what close competition means and you'll get 15 different opinions of it.
But all of them agree that it's passing, balance of competition, being able to work your way through the field. Everyone agrees on the elements. How you get there is on us."