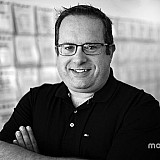 Effective immediately, NASCAR has implemented a new personal conduct policy for members in its three national series – Sprint Cup, Xfinity and Trucks – which more specifically spells out the penalties for behavioral infractions.
The new policy puts the behavioral policy more in line with the penalty system for its technical infractions, which currently designated P1 through P6, which P6 being the most serious.
No such designation will be used in the personal conduct policy but the series' rulebooks have been updated with a list of consequences for a series of different infractions.
"NASCAR is an aggressive sport"
"This is not an effort to change the way the drivers race today," said Jim Cassidy, NASCAR's senior vice president of racing operations. "This is to provide the best level of transparency and clarity as we can to all those involved.
"NASCAR is an aggressive sport. We understand the drivers are going to be aggressive in racing for position. That is not going to change. That's a very significant point but we also understand there will be a point and time when a competitor will cross the line and they should have a better understanding what exactly may transpire if they do cross the line."
The consequences of personal conduct violations can range from mild to severe.
For instance, a meeting, warning, or probation may be issued for an incident that is determined to have taken place "in the heat of the moment."
On the other end of the spectrum, a member who is charged with "significant criminal violations" could result in large fines, indefinite suspension or termination of one's NASCAR license.
Cassidy said NASCAR has met with the stakeholders in NASCAR over the last several weeks, explaining the new conduct policy.
"After the favorable response to the change to the technical violations, we almost immediately turned to other parts of the rule book that we could continue to improve (transparency)," Cassidy said. "It didn't happen overnight."
Cassidy said the changes were not specifically in reaction to last year's incidents between drivers Joey Logano and Matt Kenseth in the Chase. However, under the new policy drivers involved in a similar situation will have no doubt as to the consequences of their actions, he said.
"What you'll see is an effort by the sanctioning body to improve the level of transparency within the realms of how competitors' actions are dealt with on the track and off the track," Cassidy said.
12.8.1 MEMBER CONDUCT GUIDELINES