New Hampshire International Speedway
Denny Hamlin (third) was the highest finishing Toyota driver in Sunday's NASCAR Sprint Cup Series (NSCS) race at New Hampshire Motor Speedway.
Camry drivers Joey Logano (fourth), Kasey Kahne (sixth), Bobby Labonte (seventh) and Martin Truex Jr. (eighth) al so earned top-10 finishes at the one-mile New England oval.
Other Toyota drivers in the field included David Reutimann (19th), Brian Vickers (34th), Kyle Busch (36th), Casey Mears (38th), Michael McDowell (40th), Joe Nemechek (41st) and Mike Skinner (42nd).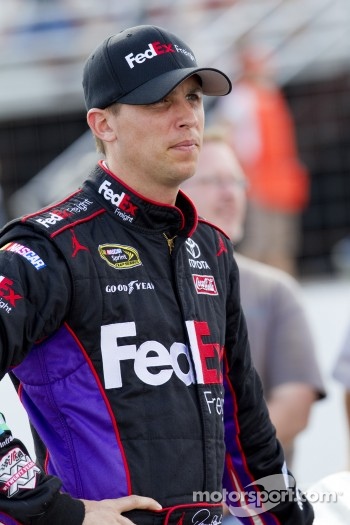 Denny Hamlin, Joe Gibbs Racing Toyota
Busch fell four positions to fifth-place in the unofficial NSCS point standings and is 20 points behind leader Carl Edwards, and Hamlin ranks 10th in the standings.
Other Toyota drivers in the top-25 in the unofficial point standings after 19 of 36 NSCS races include Kahne (14th), Logano (18th), Truex (22nd) and Reutimann (24th).
***
DENNY HAMLIN, No. 11 FedEx Freight Toyota Camry, Joe Gibbs Racing Finishing Position: 3rd
How were you able to get a third-place finish today? "Just perseverance on this FedEx team. They don't ever want to give up and they push me when I want to give up. It's just one of those days where we had to battle back obviously. Third is a good day, but we just fought this car all day long and right there at the end we made one adjustment that really woke it up. Obviously, we were able to make moves there at the end towards the front. A good day for our FedEx Freight team."
How did your car handle today? "We didn't have a very good car there at the beginning and that part was disappointing, but once we got the track position right there up front we had a car that was capable of running with those guys. Having to go to fuel save mode there at the end -- it's tough for us drivers to back off and not go for it."
How physical was today's race? "It was a pretty physical race in the sense that guys were really banging into each other. I was banging into guys. Just it was one of those days where you just had to do the best you can to keep four fenders on it by the end of the day. We had three, but it was good enough to get us through and have a good come back day finishing third."
Did you have enough fuel that you could have battled for the race win? "Well, I don't know. We won't know until here after the race, we fill the car back up and figure out how much I had left. Obviously, I was running the 39 (Ryan Newman) down. The crew chief is screaming that we got to back off. At that point you have to think about the risk versus reward. If we go out there and try to win the race, we get about 10 more points than what we get if we coast and get a third place finish, or if we go for it and miss, run out of fuel, we end up with minus 20, 30 points. It's just risk versus reward racing with these fuel mileage things. As bad as I wanted to go up there and race those guys, I had to make the smart move and finish the race."
***
JOEY LOGANO, No. 20 Home Depot Toyota Camry, Joe Gibbs Racing Finishing Position: 4th
How was your race today? "My guys did awesome today. They gave me a pretty good Home Depot Toyota today. Started the race about where we needed to be and Zip (Greg Zipadelli, crew chief) made the call to take four tires and lose all our track position, but we had to make the car better. He did a good job with that. Worked our way up through the field a little bit here and there – strategy was everything and you didn't always know where you were running because at one point you were 25th and the next minute you were running second. So you had no idea what's going on. The guys made the right call to just get fuel that time and saw some of those guys run out of fuel there at the end. Everyone did a good job and we'll take it. It's cool to come up here to the Northeast – up at home and get a good, solid finish at New Hampshire."
***
KASEY KAHNE, No. 4 Red Bull Toyota Camry, Red Bull Racing Team Finishing Position: 6th
How was your race today? "It was a tough race. This is a tough track. The guys did a decent job on pit road at best. The car was pretty good and at times it was really good. The last half of the race, it wasn't really that good. I don't know how we missed it. It was just loose off, but then I chattered and split my nose off the last half of the race. I don't really know."
What happened when there was contact with Brian Vickers during the race? "It's a teammate so I wouldn't usually stay there with Brian (Vickers) because we raced each other really clean. But it was (Dave) Blaney and he was going backwards because they were just a little bit off the pace, which is perfectly fine and they do a great job. He's going to let me go as we're going down the straightaway -- I know that from racing with him all the time. Then it would have been two-wide for me and Brian back at the start-finish so I thought we would just stay there and be twowide at the start-finish. Brian must not have known that I stayed there. He probably thought that I was going to back out. I wish that wouldn't have happened for sure, but I was there."
***
BOBBY LABONTE, No. 47 Capitol Window/CapWinFund.com Toyota Camry, JTG-Daugherty Racing Finishing Position: 7th
What challenges did you have in the race? "We fought track position all day. These guys -- we put two tires on, four tires on and we weren't faster than a lot of guys -- it was just track position. There at the end we put four tires on with 81 laps to go and we made it all the way on fuel. After 10 laps, there were three or four guys that could beat me really bad -- like the 42 (Juan Pablo Montoya) and some other guys. After a few laps on my tires, my car was decent. When I was in clear traffic and running my own lap times I could run as fast as I wanted or I could run pretty good lap times. But when I tried to push the car it just chatters the tires."
***
MARTIN TRUEX JR., No. 56 NAPA Good To Go Toyota Camry, Michael Waltrip Racing Finishing Position: 8th
How do you feel about your finish today? "I know this isn't exactly how we wanted to finish. It wasn't pretty, but with the bad luck we've had all season, it's nice to come out on the positive side of things. Our NAPA Toyota started out pretty strong, but I think me asking for track bar changes hurt us out there for awhile. That's my bad as it got us behind a bit. Then when it counted most, Chad (Johnston, crew chief) took a big swing at it one final time and it got us going again with enough gas to make it to the end. I'm so happy for my NAPA guys as they've been working so hard. It feels good to leave this place with eighth so we all can go and enjoy the off-weekend."
***
DAVID REUTIMANN, No. 00 Aaron's Dream Machine Toyota Camry, Michael Waltrip Racing Finishing Position: 19th
BRIAN VICKERS, No. 83 Red Bull Toyota Camry, Red Bull Racing Team Finishing Position: 34th
***
KYLE BUSCH, No. 18 Interstate Batteries Toyota Camry, Joe Gibbs Racing Finishing Position: 36th
What happened that caused you to hit the wall? "Blew a bead. Fastest car here -- getting through the field pretty good and kind of the only guy passing guys I guess there. We made some big changes there on that pit stop. We came back and got four (tires) just to make sure that we got all the changes we wanted to. Working our way up through there with the Interstate Batteries Camry. Just blew a bead I guess. Transferring too much brake heat through the wheel. Couldn't tell you anything else besides that. Kind of knew things weren't going to go our way today. This morning, woke up and everything went wrong that could go wrong. Pretty much seemed right."
Was there contact with Dale Earnhardt Jr. that caused the tire to blow? "There is contact with everybody out there. It had nothing to do with anybody else. Just blew a bead. Too much brake heat transferring through the wheel and blew a tire. Nothing else besides that."
***
CASEY MEARS, No. 13 GEICO Toyota Camry, Germain Racing Finishing Position: 38th
MICHAEL MCDOWELL, No. 66 HP Racing LLC Toyota Camry, PRISM Motorsports Finishing Position: 40th
JOE NEMECHEK, No. 87 AMFMEnergy.com Toyota Camry, NEMCO Motorsports Finishing Position: 41st
MIKE SKINNER, No. 60 Big Red Toyota Camry, Germain Racing Finishing Position: 42nd
By: toyota motorsports