Get alerts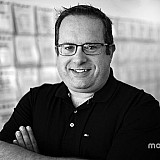 Denny Hamlin wasn't the only Joe Gibbs Racing driver celebrating a strong performance Sunday at New Hampshire.
Monster Energy NASCAR Cup Series rookie Daniel Suarez came home with a career-best-tying sixth-place finish in the Overton's 301 – his best performance since setting his previous best mark at Dover, Del., on June 4.
Suarez remains 18th in the series standings with a victory his likely best shot at making the playoffs.
While JGR as struggled with speed as an organization, Suarez has had his own obstacles to overcome this year – he was a last-minute replacement to move into JGR's No. 19 Toyota team when Carl Edwards abruptly announced his retirement in January.
Then early in the season, Suarez's crew chief, Dave Rogers, had to take a personal leave of absence, turning over the reins of the team to Scott Graves.
"I think Daniel, for his first go-around and being at some of these tracks for the very first time, he's showed a real patience in most of his races if you watch him," said team owner Joe Gibbs. "Then, towards the end of the race, he seems to start moving forward, and that's what he did today.
"I think his rookie season, I think he's learning a lot, and so it's just a work in progress. I thought today was a huge deal for him to be able to finish sixth out there. This place is tough, and it's a hard race track to get around.
"I thought it said a lot about him."
Suarez said he felt his team had a lot of "ups and downs" during the course of Sunday's race, but they were at their best in the final Stage when it mattered most.
"All the guys we were working all day long making adjustments on the race car and actually our best run was the last one. I am very proud of the effort," he said. "I think we can build on this and keep moving forward."
Suarez said Sunday's win by his teammate, Hamlin, "was a big deal" and he would like to add to the organization's success.
"I can't wait to make my trip to Victory Lane – it's been quite a while since I've been in Victory Lane," said Suarez, who won the NASCAR Xfinity Series championship last season. "I have to start winning some trophies this year.
"This sport is based on momentum and I feel like the victory by the No. 11 team is going to bring a lot of momentum to all of us at JGR."