Stewart-Haas Racing press release
RYAN NEWMAN
New and Exciting
KANNAPOLIS, N.C. (Nov. 2, 2011) If there was a theme for Ryan Newman heading into this week's NASCAR Sprint Cup Series race at Texas Motor Speedway in Fort Worth, it very well could be summed up by the phrase "new and exciting."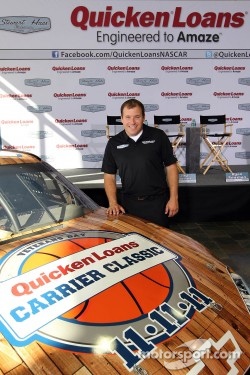 Stewart-Haas Racing announces new sponsor
Consider the news announced Nov. 1 that Quicken Loans Inc., the nation's largest online retail mortgage lender, has formed a partnership with Stewart-Haas Racing (SHR), the NASCAR Sprint Cup Series team co-owned by two-time series champion Tony Stewart and Gene Haas.
Quicken Loans will be the primary sponsor of Newman's No. 39 Chevrolet for nine races in 2012 and, when not serving as a primary sponsor, will be an associate sponsor. Additionally, Quicken Loans will be an associate sponsor on the No. 14 Office Depot/Mobil 1 Chevrolet Impala of Stewart throughout the 2012 Sprint Cup season.
If that "new and exciting" news wasn't enough, consider the "new and exciting" event Quicken Loans will be promoting on Newman's Chevrolet when he competes in this Sunday's AAA Texas 500 at Texas.
The No. 39 team will carry a special paint scheme to highlight the upcoming Quicken Loans Carrier Classic, which will pit the No. 1 North Carolina Tar Heels against the Michigan State Spartans in an unprecedented NCAA Division 1 men's basketball season opener, as the game will be played Nov. 11 on the flight deck of the USS Carl Vinson. The Veterans Day event will be held at Naval Base Coronado in the San Diego Harbor in front of 7,000 military personnel and spectators while being televised live on ESPN at 7 p.m. EST (4 p.m. PST).
And the Quicken Loans Carrier Classic was given an extra boost when it was recently announced that President Barack Obama would be in attendance.
It's a perfect fit for Newman and the No. 39 team, which has proudly supported the military under primary sponsorship from the U.S. Army since SHR's inception in 2009. And Quicken Loans has heavily backed the military as, in honor of Veterans Day and the millions of people who have served in the Armed Forces, Quicken Loans recently made a $111,111 (Nov. 11, 2011 – that's 11/11/11) donation to the Navy-Marine Corps Relief Society, which provides financial, educational and other assistance to members of the Naval Services, family members and survivors.
While there are plenty of "new and exciting" things happening for the No. 39 team, Newman is hoping to bring some "old excitement" back this week when he hits the track at Texas.
The driver of the No. 39 Quicken Loans Carrier Classic Chevrolet for SHR is looking for his second win at Texas, having claimed victory at the 1.5-mile oval in April 2003. He's also captured two poles (April and November 2005) and three top-five finishes in 16 starts there.
Newman has a new sponsor and a unique paint scheme to kick of the partnership. Thus, he would like nothing more than to be "quick enough" to put Quicken Loans in victory lane.
RYAN NEWMAN, Driver of the No. 39 Quicken Loans Carrier Classic Chevrolet for Stewart-Haas Racing:
Quicken Loans' tagline is 'Engineered to Amaze,' which seems fitting as you have an Engineering Degree from Purdue University.
"I've always said it's an honor for me to represent the U.S. Army, and what Quicken Loans does to help the veterans and to be a part of this 'Engineered to Amaze' and have my engineering degree, I'm very thankful to them for all the things that they do. The Army is just like us and what we do in NASCAR. We're teaming up as a group to go out there and win and be victorious in our battles, and I'm really proud to represent the Army, really proud to have this opportunity with Quicken Loans and Stewart-Haas Racing and, as I always say, each and every week, we'll do our best to represent them and try to get them into victory lane."
Talk about the Quicken Loans Carrier Classic paint scheme you have on the No. 39 Chevrolet for this week's race at Texas.
"It's a cool-looking car with the hardwood paint scheme and the Quicken Loans Carrier Classic logo on the hood. It's a really cool event that Quicken Loans is a part of and it's really cool for us to be able to leverage that at SHR. It's just a unique event to have two of the most well-known college basketball teams playing on an aircraft carrier, on Veteran's Day, with the President in attendance and a crowd of all military – it's something that's never been done before. Hopefully, we can have a strong car at Texas and put the Quicken Loans Carrier Classic Chevrolet in victory lane and get the festivities started off right for the week leading up to the game."
Talk about racing at Texas.
"I always look forward to racing at Texas. I love the speed at Texas. It's a fast racetrack and the weather should be cool so, hopefully, we can haul the mail. Texas is actually one of the fastest tracks we go to all year, so you have to be on top of your game because things can happen pretty quickly. It's a track I've always liked, although it doesn't necessarily show in my finishes. It's a smooth, fast racetrack and there are multiple grooves, so it's fun to race there. The asphalt has aged the track to the point it has gotten better and better each time we come back. What I mean is that the track has basically gotten wider. It's gotten a bit more character. A little more bumpy, which is fine. I like it. I think that, in general, the track has gotten wider and racier each time we've come back. It's got less grip, but that's fine. I'd rather slide around a little bit and be in charge of my racecar than be stuck to the racetrack. It's a race we look forward to. Because the asphalt has aged, it's really gotten to be a better race. I love the speed. It's a fast racetrack."
With the championship out of reach, what is the mindset going into the final three races of the season.
"Obviously you want to win every race, but we also want to build for next year. The Chase hasn't gone like we would have hoped, but we want to finish out the year strong so we can have good momentum going into 2012. And with Tony (Stewart, teammate) being in the championship hunt, we want to help him in any way we can – giving good information and helping those guys as they try to win. We've won at Texas and Phoenix, so we know we can get it done. It's just a matter of putting ourselves in a position to win."