Get alerts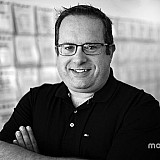 Ryan Blaney's quest to advance in the Monster Energy NASCAR Cup Series playoffs got a whole lot tougher.
Blaney's No. 21 Wood Brothers failed post-qualifying inspection Friday night at Kansas Speedway and his speed was disallowed by NASCAR. He will now have to start last in Sunday's Hollywood Casino 400.
Blaney advanced to the final round of knockout qualifying Friday and originally qualified third for the race.
NASCAR officials said the package tray on the No. 21 Ford did not maintain its original shape. The package tray fills the area between the rear quarter panels, above the rear wheel wells, rear window and rear firewall between the rear wheel tubs.
Blaney enters Sunday's race ranked seventh in the series standings and nine points over ninth-place Kyle Busch. The four playoffs drivers (out of 12 remaining) that are lowest in points without a win will be eliminated from championship contention following Sunday's race.
Team co-owner Eddie Wood said that in today's competitive environment, teams tend to take chances when it comes to preparing their cars.
"The rules are pushed to the max in every area, and today the NASCAR officials found something they didn't like about our car," Wood said in a statement. "We're not disputing their decision. We'll own it and move on.
"We'll work on our car in Saturday's practice, line up in the back on Sunday and look forward to watching Ryan drive his way to the front."