Roush Fenway Racing press release
Roush Fenway Holds Top-2 Chase Spots with 4 Races Remaining in 2011
"This is the best year that we ever had..." Jack Roush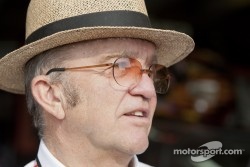 Jack Roush
CONCORD, N.C. (Oct. 26, 2011) – With only four races remaining in the 2011 season, Roush Fenway Racing moves into Martinsville this weekend first and second in the Chase standings.
"We are over half way home," said team co-owner Jack Roush. "And to be able to sit at first and second in the points with the momentum, the energy and the quality of the Ford Fusions, and the quality of the engineering and the support group is just unbelievable.
"This is the best year that we ever had in terms of the preparation of our cars," added Roush. "The way the cars are driven and the engineering and manufacturing support from Ford that is behind us is at a high-level mark.
"The race at Martinsville poses an opportunity to keep it going and to keep our momentum going," concluded Roush.
Carl Edwards sits atop the standings, leading Roush Fenway teammate Matt Kenseth by 14 markers. It marks the first time that Roush Fenway has ever occupied both the first and second positions during the Chase for the Sprint Cup 10-race 'playoff,' and the first time Roush Fenway has held the first and second positions in the standings since Kenseth and former Roush Fenway driver Kurt Busch led the points in April of 2004. Busch and Roush Fenway would move on to win the Sprint Cup that season.
Still Edwards and the team understand the season is far from over.
"We'd have to have a hundred-point lead to take a breath," said Edwards. "Anything can happen. I'm proud of our team, where we've come from, how far we've come in the last 18 months. It's unbelievable. It's a testament to how hard everyone's willing to work, how much responsibility everyone's willing to take for the things we needed to fix. We're doing well. It's fun. I'm a little nervous about Matt, honestly, because I know how good he is and how good his team is. Having him in second doesn't make me breathe easier competition wise."