NASCAR Roundtable: Harvick stumbles as Truex returns to form
On this week's NASCAR Roundtable, we take a look back on Martin Truex Jr.'s dominant performance in the Auto Club 400 and preview what's to come in NASCAR's first short track race of the year at Martinsville Speedway.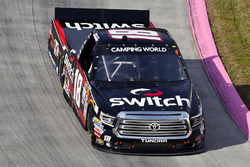 Do you think what transpired with Kevin Harvick and the No. 4 team at California was a blip on the radar screen when all is said and done? And what are your expectations for him at Martinsville?
Jim: I wouldn't think twice about it. Clearly, Harvick was among the fastest cars at Auto Club Speedway and was once again going to be in contention for the win. This was a mistake made on Harvick's part - which he admitted - and if anything I think it will serve as a learning experience. While he took a hit in points, Harvick's three victories - and likely more to come - will take care of him just fine when the playoffs roll around. Martinsville has not been one of Harvick's best tracks since he arrived at Stewart-Haas Racing and he earned his best finish since 2011 last fall (fifth). I'm not sure a win is in the cards but I suspect he'll be in contention.
Nick: It was a classic example of beating yourself and Harvick did not shy away from taking responsibility for it. But looking ahead, he is not a driver that gets rattled easily and you must remember, that No. 4 was fast enough to win that race. Just because they had an incident doesn't mean that car is going to be any slower. They will continue to be threat, including this weekend at Martinsville.
Tim: While it appeared Harvick might have been upset at Kyle Larson and was going down to bump him in the race, it clearly cost him any chances for a fourth straight win. I would call it a 'racing deal'and everyone is moving on – especially since Harvick said it was his fault after the race. While Harvick has been fast this season I don't think he'll start a new winning streak this weekend.
Tom: It was a real rookie error from Kevin Harvick at Fontana, which shows just how easily a winning streak can be ended. Harvick has a real mixed record at Martinsville, so it's now time for him to find a way to bank strong points when he's not in contention for wins. To win three races and not lead the points - granted there was the 25 point penalty - shows that consistent hauls are vital.
Martin Truex Jr. returned to form on Sunday. Was there any real doubt that the No. 78 would once again prove to be a title challenger again this season?
Jim: I don't think so. You were never really sure how the new NASCAR inspection process would affect each team but the No. 78 has been so fast the past several seasons, it seemed unlikely to slow down anytime soon. In my opinion, Sunday served as a reminder that Truex and the No. 78 aren't going away anytime soon and they'll be a big roadblock on anyone's path to this season's championship.
Nick: They were flying under the radar before this race, despite three consecutive top fives. That just shows what we've come to expect from them. This race was a reality check for the competition that No. 78 hasn't gone anywhere and the absolute domination during Sunday's race was reminder of exactly what they're capable of. Even though Harvick has come out of gate strong, I still look to Truex as the title favorite.
Tim: I think last Sunday was a reminder to everyone that Martin Truex Jr. will be a contender to win his second championship this season and will probably be the driver to beat once we get to more intermediate tracks later this season, as he was last year.
Tom: Martin Truex Jr and Furniture Row have continually stressed that they had a top car, it was just extracting the final percentages that would take them from regular top five runners to winners. Fontana proved that it was more than just talk and with Kyle Busch looking strong too, it's clear Toyota as a whole will be up there competing for titles again in 2018.
Do you think Chase Elliott can equal his run he had at Martinsville last fall before he and Denny Hamlin made contact? And do you think if the situation is reversed, Elliott will return the favor to get his first NASCAR Cup Series win?
Jim: I think the tit-for-tat payback was done after last fall's Phoenix race so I don't expect any more interaction between Elliott and Hamlin at Martinsville, other than would may normally transpire between drivers racing for the win should both find themselves in contention. I do think Martinsville could be an excellent chance for Elliott to pick up his win - he's been getting better and better there with each passing race.
Nick: Payback wise, that score has been settled, but if Hamlin is the only thing standing between Elliott and that elusive first win, I will be very surprised if the bumper isn't used. They will both be contenders this weekend.
Tim: I doubt we'll see any 'Martinsville retaliation' this weekend, but that historic track always seems to bring out the emotions from the drivers so anything is possible. I also think Chase Elliott is definitely a contender to win, based on his 2017 performance.
Tom: Elliott's looked strong in the midst of Hendrick struggling to get the most out of the 2018 Camaro, as evidenced by Jimmie Johnson's rocky start to the season. There's signs Hendrick is now getting to grips with performance and Elliott could easily be in contention if so. Having finished second seven times now, surely any chance of a victory will be seized upon. Even if it means a nudge with Denny Hamlin once again...
There hasn't been a back-to-back winner in the Martinsville Truck race since Mike Skinner swept both events in 2007. Noah Gragson won last fall and although he just has one top-10 in three races this season, do you think he can win Saturday? Additionally, just how big of a boost would it be for him to win there again
Jim: Gragson's win last fall was the highlight so far of his NASCAR career. The patience he displayed battling some of the series' veteran served him well and he'll need it again this weekend if he is to repeat. He's already showed he can win there and Kyle Busch Motorsports trucks are still some of the fastest out there right now, so I give Gragson an excellent chance at picking up another Grandfather clock.
Nick: It would be a massive boost no doubt, but I don't think it's going to happen. And that's not a knock on Gragson, I just think this weekend's winner will come from a veteran such as Matt Crafton or Johnny Sauter.
Tim: I think another win is just what Noah Gragson needs to kick start his season. He's had some struggles early this season and he showed a lot of poise getting his first win of last season at Martinsville and he could easily do it again this season.
NASCAR Roundtable: Harvick stumbles as Truex returns to form