By Richard Childress Racing
Richard Childress Racing Taps Torrey Galida as New COO
Ben Schlosser named CMO and Scott Frye promoted to CFO
Richard Childress Racing has named Torrey Galida to the newly created position of Chief Operating Officer for the 12-time NASCAR championship-winning organization.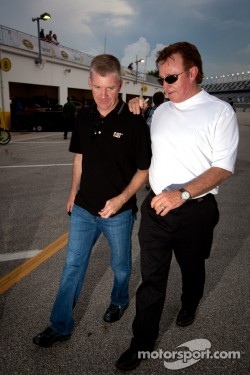 Jeff Burton, Richard Childress Racing Chevrolet with Richard Childress
In other RCR key management moves, long-time RCR executive Ben Schlosser has been named Chief Marketing Officer and Scott Frye has been promoted to Chief Financial Officer.
Galida joins RCR following many years of experience in various motorsports industry capacities. He will be responsible for overseeing RCR's day-to-day business operations and will report to Richard Childress, RCR President & CEO. Schlosser has been with RCR since April 2002 and most recently served as Senior Vice President, Business Operations. He will continue to report to Childress. Scott Frye joined RCR as controller in April 2007 and replaces Art McCarter, who will retire later in the year. He will report to Galida, as will Executive Vice President Bill Patterson. Mike Dillon and Richie Gilmore will continue to report to Childress as heads of RCR competition and ECR Engines.
"I am excited about Torrey becoming a part of the RCR team," said Childress. "He has significant experience and is well respected in the industry. He will be a great asset as we position RCR for the long-term. Ben has played a key role in our success since becoming part of our team and has helped RCR move forward in the overall marketing and business development areas. With the planned retirement of Art McCarter, Scott has demonstrated his ability to move into the CFO position. People are the key to any successful business and we are fortunate to have such a strong management team at RCR."
Galida comes to RCR from TRG Motorsports, where he served as the Chief Marketing Officer and General Manager for the NASCAR and Rolex Sports Car Series organization. He was a top executive for more than a decade with the Ford Motor Company before assuming key executive positions with Roush Fenway Racing and Millsport Motorsports, a sports marketing and sponsorship agency.
"I have an immense amount of respect for Richard Childress and the organization he has built," said Galida. "RCR is one of the premier sports teams in the country. I am delighted to have the opportunity to play a role in the team's continued success."