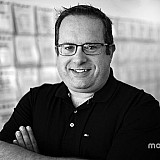 Martin Truex Jr. lost his chance to qualify for the front row of the Daytona 500 when NASCAR did not allow his Furniture Row Racing team to make an attempt.
NASCAR impounded Truex's No. 78 Toyota after pulling the car out of line during Sunday's qualifying session at Daytona International Speedway because it did not approve of one of its roof flaps.
FRR team members met with Sprint Cup Series director Richard Buck after qualifying – during which he took his own pictures of the roof flap in question – and the car was then returned to the team.
No. 78 doesn't post a qualifying time
NASCAR officials later announced the roof flap was not in compliance. The No. 78 will start at the rear of the field in its qualifying race. At this time, that will be the only penalty for Truex's team.
"They didn't like the way it landed when it dropped back down," said Truex's crew chief Cole Pearn said of the roof flap. "I don't know why it had to be rolled off pit road. I'm not sure what the problem was. It could have been easily fixed. Either way, they decided to put it on the five-minute clock when we were down there at the end. I don't know why they made us come back here (in the garage) because there was no way we would get back here then get back there (on pit road) in time.
"Whatever, we'll roll on and see what they decide to do. It's too bad. I thought we had a really good car. It would have been nice to see where we could have run at least. Either way, we'll move on and hopefully have a good rest of Speedweeks."
Before the No. 78 Toyota was scheduled to make a first round qualifying attempt on Sunday, NASCAR inspectors pulled the car out of line and told the team it needed to return to the garage make a change to its right roof flap.
The team was put on the five-minute clock but unable to correct the problem in time and Truex never registered a qualifying speed.
Truex's No. 78 team has a charter so it is guaranteed a spot in the 40-car 500 field but its starting position will now be determined by Truex's performance in Thursday night's Can-Am Duel race.
Stewart-Haas Racing issues
In addition, NASCAR also disallowed the qualifying speeds of the cars of Kevin Harvick and Brian Vickers after the NASCARS determined their respective track bars were not in compliance.
No. 4 crew chief Rodney Childers tweeted out an explanation, saying "We will have to start in the rear of our 150. We measured our (track bar) in a different spot than (NASCAR) did and ended up with 1/4" too much rake.
"I want to apologize to NASCAR, Jimmy Johns and our fans. It was a simple mistake on our part and look fwd to racing Thursday night. Thanks."