Paul Menard: "I think you'll be able to pass on the Roval"
Paul Menard describes challenges he predicts drivers will face this fall when the Roval at Charlotte Motor Speedway hosts the NASCAR Xfinity and Monster Energy Cup series for the first time.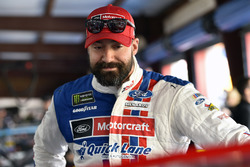 Wood Brothers was one of four drivers who participated in a reschedule Goodyear tire test on the CMS Roval in Concord, N.C., on Tuesday. The other drivers were Kyle Larson, Trevor Bayne and Kyle Busch.
 "It's different for sure and unique for this type of track," said Menard. "We run Sonoma which is slow and slippery and Watkins Glen which is a lot faster and this course is somewhere in between the two."
Menard also said this will be a challenging race for all the competitors and everyone is still learning the course.
"We've torn up a few cars so far in the test," said Menard. "When you are driving by yourself trying to make lap times, it's very hairy. I wrecked trying to do that (before).
"There is no room for error. You try to push a little harder and you're just going to put yourself in trouble and when you put 39 other (cars) out there It's going to be a (race for) survival for sure."
Menard also learned from his previous test at CMS when he wrecked going into Turn 1 on the Roval just past the start/finish line.
"You have to do more than try and click off the fastest time, I tried that and I wrecked," he said.  "(Today) I'm trying to get some good notes and good feedback for my guys."
Menard stated that on course like Sonoma, if you get loose or run off the course you have a chance to recover. That will be harder to do at CMS.
"There are walls around you (here) and at Sonoma you can run off in the dirt," said Menard. "It's hard to find the limit and hard to bring (the car) back in without running into trouble."
While Menard is quick to point out the difficulties in finding speed and a good line to run at the Roval, he also feels there will be a lot of action in the race and opportunities for passing.
"You'll see some passing for sure," Menard said. "Probably the best spots at the end of front stretch chicane and going into Turn 1. You could see someone take a position going into the bus stop.
"Also maybe Turn 5 will be a good passing zone and also I think in Turn 8 you could set up to make a pass. There will definitely be some opportunities."
Xfinity Series cars are scheduled to test at CMS on Monday.
Paul Menard: "I think you'll be able to pass on the Roval"