Get alerts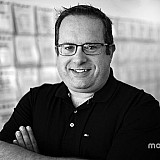 Joey Logano has gotten some helpful tips from his Team Penske teammate, Brad Keselowski, on fatherhood but he admits, "you don't know what you don't know sometimes."
Logano and his wife, Brittany, are expecting their first child – a boy – in January.
"I'm ready – this book that Brad bought me called, 'Dude You're Gonna Be a Dad,' it's actually been pretty accurate so far," said Logano, 27. "It takes you through the pregnancy stages of what your wife is going through and that's been pretty accurate, but as far as the baby part, I haven't got to that part of the book.
"Besides that, we've painted the room. We've got a crib. We've got the stuff. We did the registering, which was way more than I ever thought it would be and harder than I thought it would be."
Logano compares the experience to when he first entered full-time competition in the Monster Energy NASCAR Cup Series at age 19.
"I didn't know what I was doing and this is going to kind of be the same thing," he said. "I don't know if any parent really knows exactly what they're doing the first time they had a kid, I don't think. We're going to figure it out on our own."
What Logano has discovered is his wife's current craving.
"Ice cream is the fix all and it's a different flavor of ice cream a lot of times," he said. "So that's the go-to for her, which is OK because I end up eating a lot of the ice cream, too."