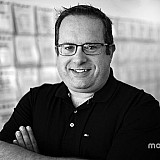 1980 Daytona 500 winner will be remembered as one of the sport's hardest chargers.
Buddy Baker faced death like he faced life: fearless and without regrets.
Elzie Wylie "Buddy" Baker Jr., who picked up the nicknames "Leadfoot" and "The Gentle Giant" with good reason during his NASCAR career, died Monday at his home on Lake Norman north of Charlotte, family and former co-workers confirmed.
Baker, who was diagnosed earlier this year with inoperable lung cancer, was 74.
Baker waited until early July, when he was leaving his longtime radio show "Late Shift" on SiriusXM NASCAR Radio, before announced his cancer diagnosis publicly.
"Everything has a start and an ending," he said before signing off that night. "And mine has been overwhelming."
SiriusXM NASCAR released the following statement:
"From the time we launched SiriusXM NASCAR Radio in 2007, Buddy was one of the anchors of the channel and we are honored and grateful to have worked with him all these years.  He brought a wonderfully engaging personality to the airwaves and his storytelling ability made his show a joy to listen to.  As one of NASCAR's great competitors, he generously shared a wealth of knowledge – developed over many decades in the sport – with our listeners.  He is greatly missed, and our thoughts and prayers are with his family."
In one of his last interviews two weeks ago with former Charlotte Observer motorsports writer Tom Higgins, Baker said he was "right with The Man Upstairs."
"If I feared death I never would have driven a race car," he said.
At 6-foot-6, Baker earned the "Gentle Giant" nickname but "Leadfoot" wasn't far behind as he set a blistering pace during his career on NASCAR's biggest superspeedways.
Baker was the first driver to eclipse the 200-mph mark on a closed course while testing at Talladega (Ala.) Superspeedway, and four of his 19 career wins in what is now known as the Sprint Cup Series came on the track.
Among his career victories were the 1980 Daytona 500 from the pole, the 1970 Southern 500 at Darlington (S.C.) Raceway, where he lapped the entire field and he won consecutive World 600 races at Charlotte Motor Speedway in 1972 and 1973.
After retiring in 1994, Baker made a successful transition to the television booth as a commentator for The Nashville Network and CBS, and later as a radio co-host for SiriusXM NASCAR Radio.
In his speech in 1995 to the International Hall of Fame in Talladega, Baker – the son of NASCAR Hall of Famer Buck Baker – said he openly wondered if he would ever succeed in stock car racing.
"'I was patient because I knew how much I had to learn," Baker said then. "The first race I ever drove was at Columbia Speedway in one of daddy's cars. As the race went on I was fuming. I said to myself, 'This thing won't run. I need more horsepower.'
"Well, the car my father was driving broke and he came and got in mine. He almost won the race. That showed me that just wanting to drive wasn't enough. You had to acquire knowledge."
After his retirement, Baker also spent countless hours mentoring many of NASCAR's newest up-and-coming stars who were often a third of his age.
"Many of today's fans may know Buddy Baker as one of the greatest storytellers in the sport's history, a unique skill that endeared him to millions," NASCAR Chairman and CEO Brian France said Monday in a statement.
"But those who witnessed his racing talent recognized Buddy as a fast and fierce competitor, setting speed records and winning on NASCAR's biggest stages. It is that dual role that made Buddy an absolute treasure who will be missed dearly."
Funeral services have not been finalized.