TRG Motorsports press release
TRG Motorsports Continues to Establish Itself Among NASCAR's Elite While Lally Proves He is "Battle Ready"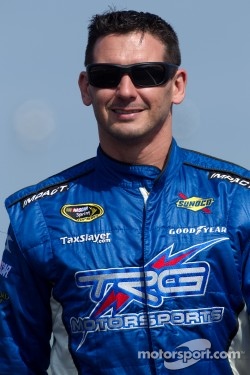 Andy Lally, TRG Motorsports Chevrolet
Mooresville, N.C. (8/27/2011) - When the song "Battle Ready" blared over the sound system of Bristol Motor Speedway and NASCAR rookie Andy Lally was introduced to the crowd of 156,000, the driver of the No. 71 Interstate Moving Services Ford Fusion realized he had a daunting challenge ahead of him. Lally, who trains in multiple speed sports and mixed martial arts, proved that challenge was a fight he was ready to take on.
TRG Motorsports leaves Bristol solidly locked in the top-35 of NASCAR's Owner's Point Standings. That margin is the largest of the season for an organization that has been red hot as of late. The team has welcomed many new team members to both its NASCAR and Sports Car programs as of late.
"We've added a few new key personnel as of late. We may not have 300+ employees as a team like Hendrick, but we're a young team and we're growing. Every week, we take a step forward. If you keep taking steps forward and work hard and work smart, you are bound to improve. Andy and the rest of the team are totally committed to making this happen. That's what we're doing at TRG Motorsports and I'm proud to see our progress." said team owner Kevin Buckler.
Another contributing factor to the team's recent progress has been the success of the team's partnership with Ford Racing and the performance of Roush Yates Engines.
Crew chief Doug Richert commented: "Roush Yates is hands-down building the best engines in NASCAR right now. I joined TRG Motorsports right after we switched to Ford in April. It took us a little time to get our program in check. We've done that now and I can't stress enough how much better our equipment is now than it was two months ago. We not only have better equipment, but a solid and growing group of employees. We are definitely an organization to keep an eye on as the season winds down."
General Manager Harry McMullen is also happy to be a part of the growing organization.
"When I was offered the chance to join TRG after Daytona, I saw opportunity. I saw the opportunity to be a part of a growing race team. I saw a determined owner in Kevin, a solid core of individuals committed to a common goal and a young and dedicated driver in Andy. This organization has an unbelievable amount of potential right now. We have put a foundation in place and are continuing to build upon that establishment."
Team owner Kevin Buckler has always stressed the team's status as a lean, nimble and efficient organization.
"We are a professional group of individuals that has a history of winning championships and putting drivers in victory lane. We're not the biggest team in the garage area, but we most efficient team. People often think of TRG and the years of success we've experienced in sports car racing. They sometimes forget how short of a time we've been in NASCAR. If you look at what we've been able to do in that short amount of time, I think it's quite impressive. For much of our NASCAR existence, we've had a talented, but skeleton crew. That crew has helped to lay the foundation for the organization I envision. We're adding pieces to both the business and competition aspects of our organization. Those pieces are building blocks upon the foundation we've already laid and building blocks toward where I ultimately want this team to be in NASCAR."
Buckler continued, "I think growth is a positive sign in any organization. While we are getting bigger, we are keeping our focus and not getting ahead of ourselves. That's where our responsibility to be an efficient race team comes in. It's not just about doing more with less, it's about doing the most with what you have. That is true efficiency. Whether we're preparing a car for the next big race or helping a sponsor maximize their ROI, we are striving to make the most of every opportunity that comes our way."
The success Buckler is referring to is evident in the team's most recent performance at Bristol Motor Speedway.
While Lally started the race towards the tail end of the field, in 38th,he raced his way to a 25th place finish. The finish marks the sixth consecutive week Lally has finished in the top-30. NASCAR's top rookie continues a streak of impressive performances as he has earned an average finish of 25.8 over the past six races. He also ran as high as third and was in fourth at the race's halfway mark.
The 25th place finish is also an improvement of seven positions over Lally's Bristol debut earlier this spring. In every race this season where Lally has returned to a track for the second time, he has improved his finish over his performance earlier in the season.
The No. 71 team also improved its position in the top-35 of NASCAR's Owner's Points Standings for the fourth week in-a-row. They now hold a forty-nine point lead over 36th and are only eight points behind 34th.
"This is the best job we've done all year in terms of adjusting on our car and making it progressively better throughout the race. When you put forty-three cars on a half-mile track, track position becomes crucial. We didn't have the best qualifying run, so we started further back than we had hoped too. However, we never quit and we never gave up. We worked on this car all race long and just kept making it better. That really seems to be our motto this season; to keep getting better. The past six weeks have been very encouraging for me. We've been able to leave each of those races with three or four good things to be proud of and build on. That's our goal from here, to keep building on our recent success and continue our motto of constant improvement." said driver Andy Lally.
"Not only are we locked in the top-35 by an entire race now, but we're proving that we can be a consistent top-25 team. The performances we've put together over the past six races are exactly what I was talking about back in January during the NASCAR Media Tour. We're a small team capable of doing big things. As a competitor, I want to keep getting better; and runs like this show that is precisely what we are doing. We keep talking about how we've earned an average finish of 25.8 over the past six races and I think that gets overlooked a lot. Consider the tracks we've raced at in that period: New Hampshire, Indianapolis, Pocono, Watkins Glen, Michigan and Bristol. In that group you have: a 1-mile oval, a 2.5 mile flat oval, a track that is pretty much a triangle, a 2-mile oval and a .5 mile oval. That shows that we're not just getting better in one area, but that our entire program is getting stronger. Our team is firing on all cylinders right now and I'm excited for what the rest of the season holds." said team owner Kevin Buckler.