Who does Kyle Busch see as the most talented up-and-comer?
Kyle Busch has mentored more than a handful of the most talented drivers coming through the NASCAR ranks.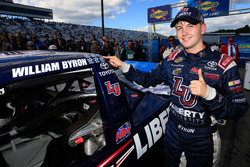 On Friday night, he celebrated his second driver championship in the Camping World Truck Series with his latest protege, Christopher Bell.
Although Bell, 22, advanced to the Championship 4 as a rookie last year, having a second year of seasoning helped him cement the title.
"It's definitely a year older, year wiser thing," Busch said on Friday night, after Bell secured the championship with a second-place finish in the Ford Eco-Boost 200. "I definitely look at (2015 champion) Erik Jones. Erik Jones was the same way. We just had to clean up little stuff with him. He was fast. We just needed to clean up some of the little mistakes and some of the stuff that he would do in practice that he would kind of miss the setup of his truck for the race.
"Those were some of the things that we did with him, and I think Christopher just cleaning up some of his race technique and things like that was something else."
Bell went from winning one race his freshman year to five victories, five poles, 15 top fives and 21 top 10 finishes in 23 starts this year. Perhaps what was most remarkable about Bell's drive to the championship was the patience and restraint he showed in the final stage of Friday's race, where he settled into second place and claimed the title, rather than risk it all for the win, which went to his close friend, Chase Briscoe.
Holding back was tough for Bell, but it paid off.
"Well, it's extremely difficult, and that's a product of this format," Bell said. "I mean, I would have loved to have been able to lock it up and race for a win tonight, but you never know if you have a late‑race restart ‑‑ you saw over the course of the restarts throughout the race that all the playoff trucks ended up right around each other, and we had to race really hard to get that track position.
"But at the end of the race, whenever I was running down the 27 (Ben Rhodes), I kept having to bite my tongue to not try and go get him, and they kept telling me how good I was compared to everyone behind me and had to keep the big picture in mind."
The one that got away
Although Busch won drivers titles with both Bell and Jones, he's still pining for the driver that got away. When there wasn't room for William Byron in the Toyota stable, Chevrolet and Hendrick Motorsports recruited the 19-year-old phenom. Byron won seven races last year for Kyle Busch Motorsports but never made it to the final four after his engine blew up while leading at Phoenix Raceway. The following week, he won at Homestead-Miami Speedway from the pole. Byron still easily won the rookie title, and KBM won its fourth owner's championship.
On Saturday, Byron will run for the Xfinity championship with JR Motorsports. But clearly, Byron left a lasting impression on Busch.
"Man, for as late as William started and for as little experience as he had, he just had a really good race craft, and he's special," Busch said. "And it's not to take anything away from Jones or from Christopher; I think they're all going to be just as good with one another because they're all going to be racing each other here in a few years," Busch said. "As a matter of fact, Jones and William next year (in the Monster Energy Cup Series), but Christopher is not far off.
"It's just different drivers, different traits, different things, different learning distances, how long it takes to figure those things out sometimes. Hell, I'm 32 and I'm still learning some things as well. It's taken me this long to figure out how to win a championship in 2015, being in the sport for 12 years."
Who does Kyle Busch see as the most talented up-and-comer?