Get alerts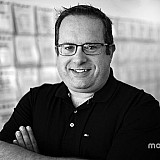 As good as Martin Truex Jr. was last season, if he had to do it all over again, Kyle Bush believes he could easily have ended up with his second Monster Energy NASCAR Cup Series championship.
"I definitely feel as though we matched them at Homestead. You know, I'd say that we were actually a little bit better than they were at Homestead, and that's what makes Homestead so painful," Busch said this week at the Charlotte Motor Speedway Media Tour.
"You can be a guy who wins 35 races out of the year, and then that 36th race you can finish second and lose the championship. We thought we had the opportunity to put the No. 78 bunch in that situation, but just wasn't quite able to pull it all off there at the end.
"It feels like a letdown, and having the opportunity to be able to win that race, we were right there, we were real close, but wasn't able to get it done."
Midway through the final stage of the season finale at Homestead-Miami Speedway, Truex pitted. So did Brad Keselowski and Kevin Harvick, the other two Championship 4 contenders.
Busch opted to wait, build an advantage and only stop once more. As long as there were no cautions for the rest of the race, he would likely claim the win and the title.
'If' the situation was reversed
A caution with less than 40 laps remaining for Kurt Busch put everyone back on the same pit schedule and left Busch once more behind Truex.
"I think if we would have been out front, if we would have been in front of the No. 78, if we would have reversed situations where we would have been where the No. 78 was, I feel like we would have drove away, and we won would have by four or five seconds," Busch said.
"They wouldn't even have gotten as close as I got to them."
Busch ended the season with five victories and led 2,023 laps – both second only to Truex. He has not finished worse than third in the series standings in the past three seasons.
2018 chances
Still, being in position to run toe-to-toe with Truex and his Furniture Row Racing team leaves Busch and his Joe Gibbs Racing organization believing they'll be in a good position to start the 2018 season.
"I don't think we would be any worse. I would like to think we'd be better," he said. "We kind of started out the season a little bit on the slower side, if you will, last year with our new car. We were kind of behind the eight-ball a little bit maybe.
"As the season kind of progressed, we learned what things our car liked and what we needed to do in order to make ourselves better and more competitive, and we were able to do those things and got it to where we were pretty fast there obviously and peaked later in the season.
"Hopefully we can start out our year this year a little stronger than we did last year."